Blood & Roses
Blood & Roses 5 CD Set
(Re-issued 2006 CAMSCO Music)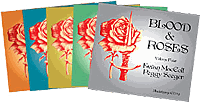 Traditional Ballads from England, Scotland and the USA sung by Peggy Seeger and Ewan MacColl. Copyright 1979 Blackthorne Records.
Note: The CD-sets come with copies of the inserts that accompanied the original vinyl LPs. This documentation is in pdf, a form that most, if not all, current-day computers can display, and when printed, the result looks very close to the original inserts.
PDF files cannot be searched for occurrences of texts. The individual ballad texts cannot be singled out to be displayed on a computer. At http://71.174.62.16/Demo/Ballads, a website has been put up that makes the texts of these ballads more accessible. The texts of the ballads from both sets of disks, as well as the descriptions of the ballads can all be found there.
Volume 1
JOCK O' THE SIDE (Child 187, sung by MacColl)
THE SUFFOLK MIRACLE (Child 272, sung by Seeger)
CLYDE'S WATER (Child 216, sung by MacColl)
CHILD WATERS (Child 63, sung by Seeger)
FAIR ANNIE (Child 62, sung by Seeger)
LANG JOHNNY MORE (Child 251, sung by MacColl)
THE FALSE KNIGHT ON THE ROAD (Child 3, sung by Seeger)
EDOM O' GORDON (Child 178, sung by MacColl)
Volume Two
CHYLDE OWLET (Child 291, sung by MacColl)
SWEET WILLIAM'S GHOST (Child 272, sung by Seeger)
FAIR FLOWER O' NORTHUMBERLAND (Child 9, sung by MacColl)
THE LAIRD O' WARISTON (Child 194, sung by MacColl)
THE HALF-HITCH (Child 31, sung by Seeger)
LADY DIAMOND (Child 269, sung by MacColl)
FAIR JANET (Child 64, sung by Seeger)
CHILD MAURICE (Child 83, sung by MacColl)
THE CRUEL BROTHER (Child 11, sung by Seeger)
Volume Three
GEORDIE (Child 209, sung by Seeger)
THE LAIRD O'LOGIE (Child 182, sung by MacColl)
AULD MATRONS (Child 249, sung by MacColl)
FAIR ROSAMUND ( sung by Seeger)
GLENKINDIE (Child 67, sung byMacColl) l
QUEEN ELEANOR'S CONFESSION (Child 156, sung by MacColl and Seeger)
YOUNG PEGGY (Child 298, sung by MacColl)
THE GREY COCK (Child 248, sung by Seeger)
YOUNG JOHNSTONE (Child 88, sung by MacColl)
HIND HORN (Child 17, sung by Seeger)
EPPIE MORRIE (Child 223, sung by MacColl)
JELLON GRAEME (Child 90, sung by Seeger)
Volume Four
YOUNG HUNTING (Child 68, sung by Seeger)
THE CLERK'S TWA SONS O' OWSENFORD (Child 72, sung by MacColl)
THE LOWLANDS OF HOLLAND (Child 92, sung by Seeger)
THE LAIRD O' DRUM (Child 236, sung by MacColl)
THE LITTLE CABIN BOY (sung by Seeger)
THE BONNIE EARL O' 'MURRAY (Child 181, sung by MacColl)
WILLIE MACINTOSH (Child 183, sung by MacColl)
LADY MAISRY (Child 65, sung by MacColl)
THE BROOMFIELD HILL (Child 43, sung by Seeger)
SIR PATRICK SPENS (Child 58, sung by MacColl)
MARY HAMILTON (Child 173, sung by Seeger)
THE BONNY HIND (Child 50, sung by MacColl)
Volume Five
BROWN ADAM (Child 98, sung by MacColl)
RINORDINE (sung by Seeger)
THE DAEMON LOVER (Child 243, sung by MacColl)
THE WIFE OF USHER'S WELL (Child 79, sung by Seeger)
ANDREW LAMMIE (Child 233, sung by MacColl)
THE ELFIN KNIGHT (Child 2, sung by MacColl)
THE TWO SISTERS (Child 10, sung by Seeger)
THE TWA MAGICIANS (Child 44, sung by MacColl)
SHEATH AND KNIFE (Child 16, sung by MacColl)
THE LASS OF ROCH ROYAL (Child 76, sung by Seeger)