About Peggy - Did You Know?
Peggy Seeger


Peggy's mother was Ruth Crawford Seeger, the first woman to be awarded the Guggenheim Fellowship Award for Music. It enabled her to study in Europe (1930-31) and to visit fellow musicians and composers. She went on to become one of the United States' foremost female composers of this century. Her works have been widely performed and recorded. Peggy's father was Charles Louis Seeger, a pioneer of ethnomusicology at the University of California (Los Angeles), where he invented and developed the melograph, an electronic means of notating music.
Peggy's half-brother Pete is considered the father (now great-grandfather) of the American folk-revival since 1946. Her brother Mike was a virtuoso on several dozen instruments. The Seeger family has been involved in folk music in the USA for over a half-century.

Peggy learned to transcribe music when she was 11 years old. In her teens she studied guitar with Sophocles Pappas (one of Segovia's pupils). He dismissed her because she refused to read by sight. She listened to him playing a piece then played it back to him - by ear.

She went to Holland in 1955, where she studied Russian in the language of Dutch. She then hitch-hiked around Europe for a year and went to Russia and China (she was one of the first North American civilians to visit the People's Republic of China after the revolution). Peggy has sat down to dinner with Woody Guthrie, Leadbelly, Mao Zedong, Zhou Enlai ... she accompanied Paul Robeson on one of his British tours.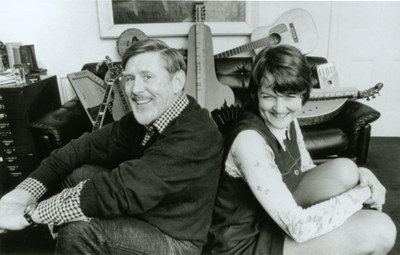 She is the face of Ewan MacColl's song The First Time Ever I Saw Your Face.

She has taken part in television documentaries, written music for documentary films, and had an entire television documentary made about herself (Granada," The Exiles", 1971). She was one of the trio (with Ewan MacColl and Charles Parker) who conceived and developed the innovative Radio Ballad form (BBC, 1959-1964). The Radio Ballads have been released in an 8-CD set by Topic Records (TSCD 801 to TSCD 808) and have once again received rave reviews.

In 1995 she (and Jim Lloyd, producer of the BBC program Folk on 2) won the Sony Silver award for a 7-part series of half-hour shows in which Peggy talked about her life.

She has acted as music editor for two large anthologies of folksong, one by Alan Lomax and the other by Edith Fowke. She has co-authored (with Ewan MacColl) two books of Gypsy/Traveler folklore and song. For twenty years she ran Britain's best known little magazine of contemporary songs, The New City Songster.


She plays 5-string banjo, guitar, Appalachian dulcimer, autoharp, English concertina and piano. She had a try at the mandolin and fiddle. The family celebrated when she lent the fiddle to a friend and it was never returned.

She has written several hundred songs of which the best known are Gonna Be an Engineer (which has become one of the anthems of the women's' movement) and The Ballad of Springhill (about the 1958 Springhill, Nova Scotia, mining disaster). 149 of her songs appear in her songbook, The Peggy Seeger Songbook, Warts and All (Oak Publications, 1998). The companion book to her own songs is The Essential Ewan MacColl Songbook, a complete and comprehensive anthology of the songs written by Ewan MacColl (Oak Publications, November 2001).


She has made 24 solo discs and collaborated with Ewan MacColl on more records than she can count. She has also appeared on many recordings by other artists. Among her best known albums are a compilation of women's songs entitled Period Pieces: Women's Songs for Men and Women (Tradition 1078); Love Will Linger On (Appleseed 1039), an album of romantic love songs old and new; Almost Commercially Viable (Sliced Bread SB71204), songs of love and politics, made with her partner Irene Pyper-Scott. Her stunning HOME TRILOGY (three albums of traditional songs with an intense personal song as the title track for each album): Heading for Home, Love Call Me Home and Bring Me Home. Fly Down, Little Bird, songs from childhood, made with her brother Mike, appeared in 2010. Her first solo live album, Peggy Seeger Live was issued in 2012. A signal change in her artistic approach was seen in her latest recording Everything Changes, (2014, Signet Music) that received glowing reviews across the press. Her album of love poetry, Love Unbidden, is still in the wings.

She held her 70th birthday in London's Queen Elizabeth Hall in 2005. The event is commemorated in a 2-CD distillation, Three Score and Ten (Appleseed APR CD1100).

As a Visiting Scholar, she taught songwriting at Northeastern University, Boston, for two years (2007 & 2008). She received a Doctor of Arts award from Salford University in 2012. She moved back to the UK in 2010 and is now living in Oxford.

She is a mother of three and grandmother of nine. Her two sons, Neill and Calum MacColl, have been playing music with her since their teens. They now produce, direct and play and sing on her recordings. Her daughter Kitty takes care of the graphics and occasionally provides backing vocals.

The one and only authorised biography, 'Peggy Seeger, A Life of Love, Music and Politics', by Jean R Freedman was published February 2017 (University of Illinois Press) and Peggy's memoir, 'First Time Ever' will be published in October 2017 (Faber & Faber).

She is represented by:
Management: Kerry Harvey-Piper, Red Grape Music (e) Kerry@redgrapemusic.com,
(t) +44 (0)7976 272139