Everything Changes
Peggy Seeger - Everything Changes
Signet Music/Red Grape


SING OUT

Everything Changes is not at all a Peggy Seeger recording I would have anticipated. It is far more a chanteuse album than an album of folk songs. Peggy notes this is the first she has done entirely of contemporary songs most of which she wrote solo or in collaboration – and she notes collaborative writing is something new and exhilarating for her. It is something of a family affair, as her son Calum MacColl both produced and helped arrange the record, as well as playing guitar and ukulele. The rest of the house band here is Martyn Blake on drums, James Hallawell on keys and bassist Simon Edwards, and they are versatile and supple as they help make this a decidedly modern album.
Eight of the eleven songs are Peggy's. "Swim To The Star" written with Calum MacColl was commissioned by the BBC for a show marking the centenary of the Titanic's sinking. "We Watch You Slip Away" was written with Kate St. John (formerly of The Dream Academy) about the slow passing of Kate's mother. Peggy's mother Ruth who died from cancer in 1953 and her childhood are evoked in "Everything Changes."
This new notion of writing songs collaboratively seems to have opened Peggy to new ways of recording as well. Calum's production technique here is a new process for Peggy as she only plays instruments on two selections, thus freeing her to concentrate on her singing which is both sweeter and darker than usual. And most compelling.
Yes, Everything Changes is different from anything Peggy Seeger has ever done before, definitely a "Songs of Experience" kind of thing she could never have done as a young woman. A lifetime has gone into reaching the place she sings from here. The result is a quietly compelling album of songs that took a lifetime to be able to write and sing. A most eloquent and rich album.
— Michael Tearson
English Dance & Song Winter 2014
In her informative and moving booklet notes to Everything Changes, Peggy Seeger states categorically that, 'I am a folk musician and these are not folk songs.' And while most of the tracks on her 22nd solo album would not have been recognised as 'folk' in the heady days of the revival, this is immediately recognisable as a Peggy Seeger album and a very fine one.
Her singing is as highly charged as ever and her writing as pointed and witty. 'Nero's Children' is definitely a 'traditional' Seeger composition with its anti-war sentiments, while 'Swim to the Star', commissioned by the BBC for a programme about the Titanic, has wider resonance through its references to the sinking of a 'ship of state and a ship of fools'. Equally impressive in a very different mode is a kind of love song, 'You Don't Know How Lucky You Are' in which the female protagonist invites her man to 'lie back and think of England, cos I've been here before'.
But she's right to underline the differences between this and her work of the last few decades. Apart from piano on 'We Watch You Slip Away', she does not play any instrument. Instead the accompaniment is provided by a small group including Calum MacColl, who has produced Everything Changes.
Calum also collaborates with his mother on two songs including 'Swim to the Star', while Peggy has also co-written with Kate St John for the album. 'We Watch You Slip Away' is a tribute to Kate's mother and contributes to the valedictory atmosphere that pervades Everything Changes. The remarkable title track is dedicated to Peggy's mother, the composer Ruth Crawford Seeger, and moves from memories of 'playing games until mama called me home' to present day thoughts of Ruth calling her daughter home in a different dimension.
Dave Laing
Listen with Monger
http://listenwithmonger.blogspot.co.uk/2014/10/peggy-seeger-album-review.html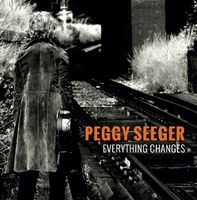 When I was a lad, my sister used to keep her Easter eggs for months until the chocolate had developed that white tinge and were pretty much beyond use - a crime to a younger, chocolate hungry brother who had long since scoffed his eggs. However, I fell in to the same, sticky trap of delaying gratification with this album. So excited was I to get this new material from the legendary Peggy Seeger that I have been waiting with eager anticipation to review it and have then enjoyed it so much that the release date has come and gone. Nevertheless, this is one of those albums that shouldn't be ignored due to its beauty, simplicity and general approach of substance over style - all things you would expect from this enduring artist. Even the album artwork - a musician staring down the train tracks holding her guitar case - might seem a little cheesy in the wrong hands but in this instance, coupled with the 'Everything Changes' title, it seems wholly appropriate.

The album opens with 'Swim To The Star' and instantly that simplicity is apparent with its seemingly sparse musicianship and warm tones which are intriguing in a song written to mark 100 years since the sinking of the Titanic. The gorgeous lullaby of 'Go To Sleep' has a darker lyrical meaning but as a melody and soft vocal performance could tame even the most savage of beasts. On 'Nero's Children' Seeger turns to a more smoky Jazz influence while 'We Watch You Slip Away' is a piano and vocal lament about the ravages of old age. There is a more contemporary feel to 'Flowers By The Roadside' - on of many songs co-written with Seeger's son Calum MacColl - which would fit in with the oeuvre of the XX or Laura Marling due to the sparse melody and atmospheric feel. There's a return to the piano only accompaniment on 'When Fairy Stories End' and anyone who doesn't have a lump in their throat or at least an urge to call their mother by the end of this song is pretty much dead inside.

Overall this is a fairly dark collection of songs with the mood of someone looking back down the railway tracks of their life at the emotional peaks and troughs. However, Seeger has always had a wry sense of humour and that comes through on her version of 'Do You Believe In Me?' performed with a real sense of mischief and fun as it takes on the mythical characters we all grow up with. The folky, almost childlike simplicity of 'Over The Mountain To You' lilts and sways like a Willow in a warm summer breeze on the banks of a Louisiana river. Always one to stick up for herself and her sisters, Seeger exudes quiet self-confidence on 'You Don't Know How Lucky You Are' while Rutthy Taubb's 'Miss Heroin' gets the full swirling, snaking, malevolent treatment with guitars winding round your senses while the percussion hypnotises you. The title track closes the album and 'Everything Changes' is, again, a simple ode to less complicated time overseen by Seeger's mother where values mattered and there was time to catch a thought before it became out of date.

The beautiful thing about this album is the way it feels both contemporary and classic simultaneously. 'Everything Changes' will fit in perfectly with Seeger's previous work but will also introduce a whole new generation to a way of songwriting that isn't driven by radio minutes or a killer chorus, more by storytelling and getting a message to all those awake enough to listen. Are you awake enough? I hope so, for your sake.



Press comments


Colin Irwin, fRoots
In every way, shape and form, this is a remarkable album. It's an album which makes some stern demands on you. But that's nothing to the demands it makes on Seeger herself. The fact that she meets them all with such relish, confidence and conviction make it very special.


The Guardian – 5 stars
A revelation – folk legend Peggy Seeger returns to form, her limber vocals and experimental approach enhancing some of the finest new songs I have heard this year.

Nick Coleman, Independent on Sunday – 4 stars
A remarkably fresh and dynamic affair …. Hushed, listening, spacious, wise and witty

Financial Times – 4 stars
(An) admirable album … a genuine emotional catch.

The Sun – 4 stars
(A) wonderfully evocative, beautifully performed album that reflects on her life less ordinary with wit, passion and serenity

Daily Telegraph – 3 stars
(Peggy Seeger) deserves her own place in folk's great pantheon and she shows in Everything Changes that she can keep up with the times.

Sunday Express - 4/5
She sounds fantastic.

Uncut – 8/10
A record of disarming frankness. Seeger has earned her right to gravitas. A triumph.

Record Collector – 4 stars
Seeger has rarely been in better voice

Mojo – 3 stars
This sophisticated album is both demanding and satisfying. It ain't light listening but its emotions run deep.

Songlines – 3 stars
(Seeger) is working with a fine band and is clearly relishing the whole experience.

New Internationalist
This stirring album brims with a radical energy that can only illuminate.

Music-News.com – 4 stars
Peggy Seeger is a monumental figure in folk and modern music but this proves that she is still vibrant and relevant. This is definitely Peggy Seeger at her best.

PennyBlack Music.co.uk
Magnificent songs and she sounds like an absolute angel. This is a wonderful album, which deserves an attentive listen

Whisperinandhollerin.co.uk – 7/10
A remarkably strong album that shows that Peggy Seeger's still sharp and has still got what it takes.