Ruth Crawford Seeger's Worlds: Innovation and Tradition
Ruth Crawford Seeger's Worlds: Innovation and Tradition in Twentieth-Century American Music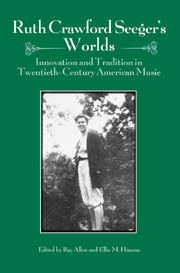 Ruth Crawford Seeger's Worlds: Innovation and Tradition in Twentieth-Century American Music offers new perspectives on the life and pioneering musical activities of American composer and folk music activist Ruth Crawford Seeger (1901-1953). The interdisciplinary collection offers essays by musicologists, music theorists, folklorists, historians, music educators, and women's studies scholars.

The first woman to be awarded a Guggenheim Fellowship in composition, Ruth Crawford developed a unique musical style in the 1920s and early 1930s. With her String Quartet 1931 and other works she played a vital part in the "ultra-modern" school of composition in New York City, a group of composers that included Aaron Copland, Henry Cowell, and Dane Rudhyar.

Shortly after her marriage to musicologist Charles Seeger in 1932 and the birth of her first child in 1933, Ruth Crawford Seeger stopped composing and turned to the work of teaching music to children and of transcribing, arranging, and publishing folk songs, projects she would continue until her untimely death from cancer at fifty-two. Through her transcriptions and arrangements of traditional American music, she emerged as a leader in the folk song revival of the 1930s and 1940s. Her children Mike Seeger and Peggy Seeger carry on her legacy through their careers as performers and advocates of American folk music.

Ruth Crawford Seeger's modernist compositional work and tireless advocacy of folk music reveal how innovation and tradition have intertwined in surprising ways to shape the cultural landscape of twentieth-century America.


About the Editors:

Ray Allen is Professor of Music and American Studies at Brooklyn College, CUNY. He is author of Singing in the Spirit: African-American Sacred Quartets in New York City (University of Pennsylvania Press, 1991) and co-editor of Island Sounds in the Global City: Caribbean Popular Music and Identity in New York (University of Illinois Press, 1998).

Ellie M. Hisama is Professor of Music at Columbia University and a former Director of the Institute for Studies in American Music at Brooklyn College, CUNY. She is author of Gendering Musical Modernism: The Music of Ruth Crawford, Marion Bauer, and Miriam Gideon (Cambridge University Press, 2001) and co-editor of Critical Minded: New Approaches to Hip Hop Studies (Institute for Studies in American Music, 2005).

OTHER CONTRIBUTORS: Lyn Ellen Burkett, Melissa J. de Graaf, Taylor A. Greer, Lydia Hamessley, Bess Lomax Hawes, Jerrold Hirsch, Roberta Lamb, Nancy Yunhwa Rao, Joseph N. Straus, Judith Tick.

ORDER THIS BOOK: http://www.boydell.co.uk/www.urpress.com/8046212X.HTM