70th Birthday Concert Reviews
Peggy's 70th Birthday Concert Reviews
London, May 29, 2005
Queen Elizabeth Hall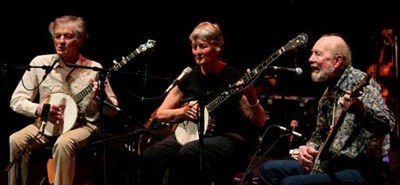 Mike, Peggy and Pete Seeger. Concert photo © Philip Ryall.
~*~*~*~
People's Weekly World Newspaper, 07/14/05 13:33

The Queen Elizabeth Hall on London's South Bank was packed on May 29 as legendary folk performers from both Britain and the U.S. gathered to celebrate the 70th birthday of legendary folk singer-songwriter Peggy Seeger.

Coming from a U.S. family of musicologists, but spending most of her performing career in Britain, Seeger provides a clear link with the politically progressive folk tradition on both sides of the Atlantic.

Welcoming the audience, Mike Harding set the scene by pointing out how, with the famous Radio Ballards of the 1950s, Seeger and her late partner Ewan MacColl gave expression to the experiences of working-class people in song. Both through her collaboration with MacColl and through her own compositions, Seeger has combined her singing career with support for left-wing causes, embracing women's liberation, nuclear disarmament, anti-apartheid and trade union struggles.

This political commitment was much in evidence at the concert.

At different points during the first set, Seeger was joined by guest artists such as Billy Bragg, Martin Carthy, Norma Waterson and Eliza Carthy, as well as partner Irene Scott and children Neill, Calum and Kitty MacColl.

And, for the first time ever on a British stage, she was joined in the second set by both of her brothers from the U.S. - Mike Seeger, who is known for his distinct interpretation of bluegrass and traditional mountain music, and Pete Seeger, a contemporary of Woody Guthrie and a mentor to 1960s U.S. protest singers such as Tom Paxton, Judy Collins and Peter, Paul and Mary.

Using a combination of banjo, dulcimer and piano, Peggy Seeger performed some traditional songs taken from her new CD, "Heading For Home," as well as older love songs, including MacColl's song for her, "The First Time Ever I Saw Your Face," which is totally different in style from the Roberta Flack version that most people are familiar with.

In keeping with the pattern that she and MacColl always had at folk concerts, the traditional songs were interspersed with political songs about war, trade unions and women's rights.

Now living back in the U.S., her song "The Caveman" is an indictment of U.S. foreign policy and details the countries that have been bombed by the U.S. over the years. On finishing, she explained to the audience that she never wants applause after singing the song as it doesn't seem appropriate.

This, however, was the only occasion when the audience didn't applaud.

It was a particularly emotionally charged moment when a rousing rendition of MacColl and Seeger's "Song for Che Guevara" was performed with help from the Waterson-Carthy family.

Then the atmosphere reached boiling point when Pete Seeger appeared in the second set.

The composer of songs like "Turn, Turn, Turn" and the anti-McCarthyite "If I Had a Hammer" was quickly able to dispel any worries that, at the age of 86, he may have lost some of his singing ability or political passion.

With his legendary skills in encouraging audience participation, he soon had everybody singing along to the humorous "English is Cuh-Ray-Zee," then to a recent composition about Martin Luther King and, finally, to his own classic antiwar song, "Where Have All the Flowers Gone?"

But by that time there was hardly a dry eye in the house.

Towards the end of the concert, Peggy Seeger sang her most famous feminist song "I'm Gonna Be An Engineer" and all the artists gathered on stage for a rendition of "Sing About These Hard Times," a song of hope for working people.

Uniting the best of the progressive folk-singing community in both Britain and the U.S., this birthday concert truly was an inspirational musical and political experience.
Author: Steve Johnson


~*~*~*~

Morning Star
www.morningstaronline.co.uk

Listen to an interview with Peggy and Pete at www.dexterbentley.com
(scroll down the page to the section about Peggy, wait for the graphics to load, click on the radio image to hear the streaming music and interview.)


~*~*~*~

QEH MANY HAPPY RETURNS, PEGGY
A Review by Dave VanDoorn
published in Tradition Magazine

June 2005 marks a very special event in the annals of folk music and song: the 70th birthday of Peggy Seeger. And to celebrate this important milestone in her life, Peggy, along with family and friends, appeared in a one-off concert at the Queen Elizabeth Hall on May 29th. And what a concert. From the moment she stepped on stage, Peggy held every person in that packed auditorium spellbound.

From her opening song, unaccompanied American ballad, Bad Bad Girl, through to the closing number, Sing About These Hard Times, Peggy worked a magic seldom encountered in the Folk (or any other) world. Somehow she made us all feel like guests at our local folk club, rather than at one of London's most prestigious concert halls. No, more than just a folk club; it was as if she genuinely regarded every one of us as an old and treasured friend, personally invited into her home to share her birthday celebrations with her and her friends and family.

The guest list was something to drool over: Mike Harding (briefly as opening MC), Martin Carthy, Norma Waterson, Eliza Carthy, Billy Bragg, James MacNally, Graham Henderson – and that's just the friends. Family consisted of partner Irene Pyper-Scott, sons Neill and Calum MacColl, daughter Kitty MacColl, and brothers Mike and Pete Seeger. Peggy performed solo as well as sharing the limelight with various permutations of her guests: Peggy and sons; Peggy and the Carthy/Watersons; Peggy and brothers; Peggy and Billy – the list goes on. Yet never once did she let you feel that this was The Peggy Seeger Show. It was a microcosm of folk song with material ranging from American Old Time, through British Ballads to modern 'protest' songs (hate that word, but you know what I mean). Oh, not to mention some Jazz and a hilarious Tom Lehrer-esque piece dedicated to post-9/11 American paranoia called Home Sweet Home.

Peggy's instrumental virtuosity is legendary: guitar, 5-string banjo, autoharp, English concertina, piano, as well as possessing a most extraordinary singing voice which surely gets better every year of her life. Yet some of the most magical moments of the evening were to be had when Peggy simply sat at the piano and tinkered, sharing gentle musical anecdotes with us or poems dedicated to the loves of her life. But she was at her best with the rousing stuff like Gonna Be an Engineer or Che Guevara; or moving pieces such as The First Time Ever I Saw Your Face, written by her late husband Ewan MacColl about Peggy herself. I'd like to make special mention here of Peggy's son Calum who was a truly master Gopher, rushing hither and yon to make the evening happen, combining the roles of accompanist, stage manager, sound engineer, tuner, roadie and water boy.

My personal favourite of the evening was when Peggy shared the stage with her brothers Mike and Pete, performing Old Time favourites such as When First Unto This Country and Cindy. And it was good to see that even the Gods have problems when switching from one of the many available banjo tunings to another (incidentally, what's the collective noun for long neck banjos? There were three on stage at once point played by the Seeger siblings, so how about a 'Seeger' of LKBs?).

Pete was pretty damned amazing. To tumultuous applause, he strolled on stage in colourful shirt, working man's denims and Timberland boots, looking and sounding every year of his 50 years (he's actually 86). One of the most sensitive moments of the evening was when he sang (with just a little help from the audience) Where Have All the Flowers Gone?, a piece which I guess we all take for granted now but is actually a very moving anti-war song. Make the most of it folks: prior to this event, Peggy, Mike and Pete had never appeared on stage together in the UK and it's unlikely it'll happen again.

But the best song of the evening came towards the end when Peggy, friends and family were joined on stage by her eight grandchildren to present her with a floral bouquet and cake. Yes, we all heartily sang Happy Birthday while Peggy blew out the candles. A wonderful evening was then brought to a close with everyone singing stirring renditions of Careless Love and Sing About These Hard Times. Happy 70th Birthday, Peggy; it was a privilege helping you celebrate it. May there be many, many more of them.
~*~*~*~