The World Of Ewan MacColl and Peggy Seeger Vol. 2
The World of Ewan MacColl and Peggy Seeger Vol. 2


1. Cabin Boy 02:48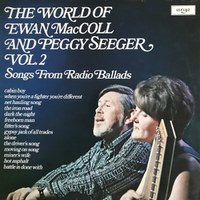 2. When You're A Fighter, You're Different 02:22
3. The Net Hauling Song 02:27
4. The Iron Road 02:42
5. Dark The Night 02:34
6. Freeborn Man 03:43
7. The Fitter's Song 02:01
8. Gypsy Jack Of All Trades 03:10
9. Alone 01:40
10. The Driver's Song 02:14
11. Moving On Song 03:23
12. Miner's Wife 02:31
13. Hot Ashphalt 02:25
14. The Battle Is Done With 03:08

The second of two 'Best Of' albums featuring songs from the Radio Ballads. Volume 2 was released in 1972. This is a high quality transfer from the original vinyl, as the original masters are lost.
released December 3, 1972
Sung by Ewan MacColl & Peggy Seeger
Produced by Harley J. Usill
Peggy Seeger (Banjo, Gtr, Concertina, Dulcimer)
John Faulkner (Mandolin, Gtr, Fiddle)
Sandra (Gtr, Whistle, Spoons)
Bruce Turner (Clarinet)
Bryan Daly (Gtr)
Jack Fallon (Bass)
Sam Parry (Harmonica)
Jack Warshaw (Gtr)
Chorus: Terry Yarnell, Bob Blair, Sam Parry,
John Faulkner, Jack Warshaw.
license