Journeyman Autobiography
EWAN MacCOLL- Journeyman an autobiography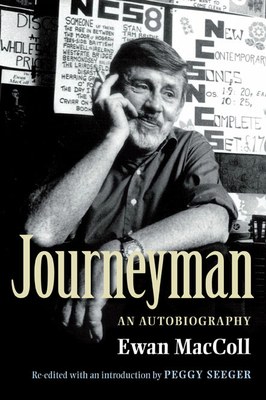 This new edition of Journeyman, Ewan MacColl's vivid and entertaining autobiography, has been re-edited from the original manuscript, and includes a new introduction by Peggy Seeger, his partner for the last thirty years of his life. It was for Peggy that he wrote the unforgettable First Time Ever I Saw Your Face.
This fascinating account of the life of the singer, songwriter, actor, playwright and broadcaster begins with the story of a working class Manchester childhood, which had a profound influence on his songwriting, inspiring, for example, 'Dirty Old Town' (1949). The book also traces the founding of Theatre Workshop, one of Britain's most influential twentieth-century theatre companies.
234x156mm 512pp

hb 9780719079351 October 2009 £40.00

pb 9780719079368 October 2009 £19.99

41 b/w illustrations


TO ORDER




Published by Manchester University Press


~*~*~*~*~
The Original Edition
The original edition of Ewan MacColl's autobiography, Journeyman, is out of print. It is a poignant documentary of a man born during the First World War, who left school in the middle of the Great Depression and who pulled himself up by his own shoelaces.
Photographs, 400pp. Sidgwick and Jackson, London, 1990.
Keep an eye out for old copies on eBay and on booksearch services - they are collector's pieces.
---It starts this way:
Early Days and Hogmanay

My memory works in strange ways, that is when it works at all. There are times when even my children's names elude me, so that I have to grope, like some comic-book caricature of an absent-minded professor, through the names of all of them until I find the right one. On other occasions, the name of a casual acquaintance, one which has lain forgotten in some dusty recess of my memory, will come leaping unbidden straight into the forefront of my mind.

Sometimes, out of the corner of my mind's eye, I catch a fleeting glimpse of a mosaic floor showing a faded and almost indecipherable pattern, a kind of three-dimensional jigsaw puzzle in reverse, which reveals more and more of its secrets as the pieces are prised Out. One by one they come, loosening the pieces around them, until finally the entire design becomes clear.

A small piece chosen at random: a late afternoon on the edge of changing into a steel-blue evening. I have come from school, entering the house by the back door. On the scullery mantelpiece I find a tablet of Melrose, which I rub on the chapped skin on the inside of my thighs. I can hear my mother singing in the front room. That is how we refer to the one comfortable room in the house: the front room. The two bedrooms are for sleeping in; they each contain a bed and a cheap chest of drawers, The scullery is for working in; it has a cement floor which, according to my mother, 'breathes damp'. It has a sink with a cold-water tap where we wash, a copper used for boiling clothes, a huge mangle for wringing them out and a gas-ring on which we make our porridge and boil the water for our tea.

The front room is where everything happens. We eat there and entertain friends. It is the centre of our social life. The table, which is its main item of furniture, has many uses. We take our meals on it. I draw and write and play games on it after the evening meal has been cleared away. My father sits at it when he writes up his notes for the union branch or when the branch holds its meetings at our house. My mother uses it for doing her ironing on and for baking.

----- it ends this way:

But would you say you have enjoyed your life, Mister...er...? Have I? Well, I have loved and been loved. I love and am loved. I have been engaged throughout my life in work that I love. I wanted to write plays and I did so. I wanted to work in a theater which I helped to create and I did so.

I wanted to write songs and sing and I have done that too. How many people are given the chance of fulfilling their desires? I have been wonderfully fortunate in the men and women I have known, in my friends and in those I have loved. I have been involved in lifelong love affairs with Shakespeare and Ben Jonson, Burns and Dunbar, Balzac and Aristophanes. I have had the thrill and satisfaction of taking part in working-class struggle. I have climbed rocks and mountains, walked through heather and seen my feet raise a red cloud of pollen, I have made love in the velvet darkness of a Bulgarian night heavy with the scent of roses, walked in the Corsican maquis drunk on the pungent smell of aromatic herbs. I have strolled in the desert at the hour when the cold night and the hot day have still not decided who shall rule.

In the meantime the world goes creaking along. Like me, it seems to be somewhat stiff in the joints these days and not quite sure that it's going to be here next week. And the friends of my youth - so many of them are gone, as are many friends of my later years.

Death has done piteously devour
Joseph of Spiddle, singeris flooer,
Bert and gentle Aif, all three,
Timor mortis conturbat me.

Bertrand o' Maine he has brocht doon,
And auld Moses o' New York toon;
Vance Randolph embraced has he,
Timor mortis conturbat me.

But the songs are still here - the beautiful, gentle, harsh, ironic, good-natured, lusty, bawdy, exquisite, passionately beautiful songs of the people. Let us hope that they continue to survive, that the kind of women and men who gave birth to them will survive, that the world which gave birth to us all will survive. I'll drink to that!
January 1989