2012-2013
I think we may have missed out a lot of action in the last three small newsletters. This one will hopefully fill in the chronological holes, telling you more than you need or want to know.
HELLO ALL –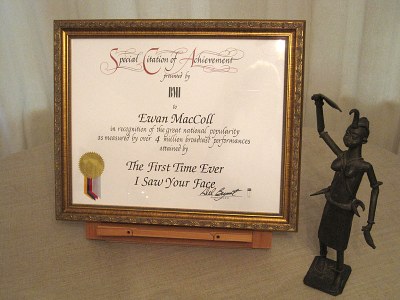 I mentioned the BMI award in my last newsletter. The normal place for the BMI plaque is the bathroom but here it is being saluted by a lost-wax female warrior from Africa.

I've also already mentioned – at length - my last CD, Folksploitation, and the fact that it was nominated for an AIM award. Well, the award ceremony was massive. Dozens and dozens and dozens of big round tables, each seating 10 guests, wine glasses and cutlery at the ready for the hundreds of artists, managers, publishers, agents, studios, all wining, dining, networking and sitting fingers crossed in hope and hopes. We didn't win but it was certainly an occasion to be experienced.

Speaking of networking: I am increasing my participation in the online petitions such as those run by SumOf Us.org, Change.org, avaaz.org, 38Degrees.org, weareultraviolet.org and all of these active advocacy and activist websites who are actually managing to shift the capitalist behemoth off its backside, sometimes rolling it out the door and into the garbage can in issue after issue. For the most part, you just need to click on SEND THIS PETITION or SUBMIT when you've checked a box or two. But it can be even better to clack out your own letter instead of just submitting the generic one. It does make a difference. I'm probably preaching to the converted who are already busy converting others.

OCTOBER 2012.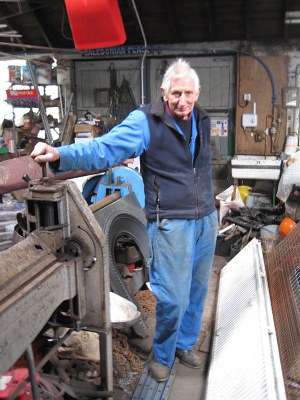 October was a tour of Scotland, which is home to the Crawfords, a border clan from which my mother sprang before her forebears decided to go and live in a very poor mountain town in West Virginia, where her father landed at one stop of his journey as an itinerant Methodist preacher. I always feel at home in Scotland and the lack of motorways is always a relief – you have time to look at the scenery. It is to be noted that in Moffat, on the borders, there is a blacksmith whose shop goes back over a hundred years. The most recent owner allowed me to photograph him, badly. This smithy is well worth the visit – it is very old, very noisy and very ingeniously set-up, occasionally reminiscent of Wallace and Gromit. Very hands-on. Also: Moffat has a superb butcher, Wallace Brothers on the High Street. Goes back three generations and is organic. Get the fruit pudding – comes in a big tube about 4" in diameter. The butcher slices it off in segments the thickness of which is your choice. ½" please a lady in this case – fry it up like a sausage and have what I have.

Meanwhile, back in Oxford, Ruskin College (among other things the home of the Ewan MacColl/Peggy Seeger Archive) had been making its momentous move from Jericho to Headington, to glorious new premises overlooking open countryside which apparently is going to fall to the developer's axe. So what's new? October 27 was the official celebratory opening event and I was privileged to be there. Children, alumnae, dancers and singers, and a chance to see old friends.

NOVEMBER 2012.
Since September I've been involved here in Oxford with the Temple Cowley Pools Campaign, about which we have already informed you. I made a simple song for it with the help of Jane Alexander. We lassoed children, teenagers, folks of all ages to sing it. Philip Hind and Zoe Broughton made a lovely video of it. The video and the song are accessible from the homepage of my website (ww.peggyseeger.com). Hit the CONTACT button on the home page & you'll find out how to get a CD of the song. Because the people who run the Temple Cowley Pool wouldn't let us film in the TCP itself, the prestigious Radley Boys School lent us their glorious facility – with a 15' diving board. You guessed it. I jumped off that board and was on my back recuperating for two months during which I

1) went to London and Brighton several times to record my new CD, each time coming home to lie on my back again
2) gave two concerts for the Temple Cowley Campaign, each time coming home to lie on my back again
3) visited the Oxford City council chambers to support friends who are speaking on behalf of the Campaign, coming home to lie on my back again.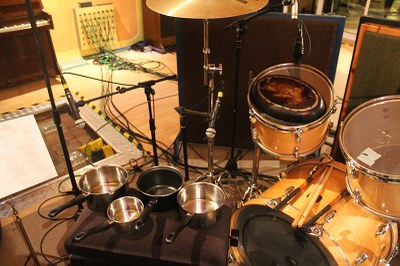 About that new CD – it's been a wonderful experience, working with very seasoned instrumentalists, Simon Edwards, Martyn Barker, James Hallawell and my son Calum MacColl. At one point Martyn instructed his inner child to bang professionally on pots and pans to accompany a mad song by Lou and Peter Berryman.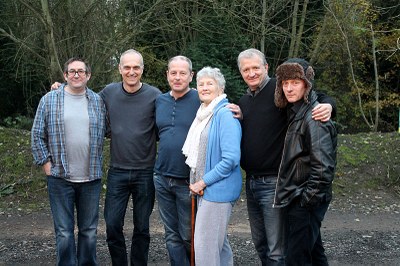 Here we are for a celebratory photograph. Note the walking cane. I'm ready to go home and lie on my back again. ( The CD is entitled Everything Changes. It's due out in the late spring – more about it later. )

2012 IN GENERAL.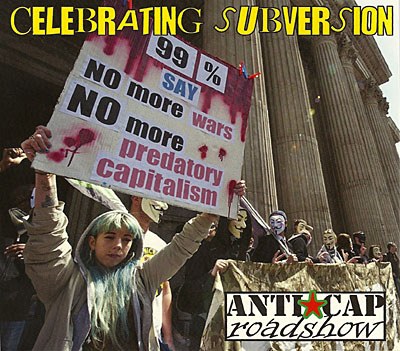 THE ANTI-CAPITALIST ROADSHOW: You'll remember them from my last newsletter . Well, the CD, Celebrating Subversion, is out now, available here. It doesn't have our hilarious socialist magician Ian Saville on it, but it's an interesting and inciteful mix of musical political sledgehammers and scalpels. You will definitely want to book us in your town, preferably in the UK which is where we all live. Just go to www.anticapitalistroadshow.co.uk.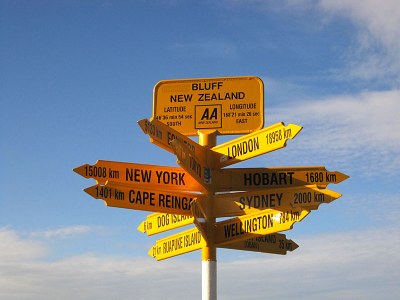 JANUARY, FEBRUARY, MARCH 2013 I fly away like a migrating bird on January 12 to spend the winter months with my partner Irene in New Zealand. A hard life. It will mostly be photographs from now, especially from the pilgrimage that we made down the South Island to Stewart Island, the farthest southern part of New Zealand. It is home to kiwis in the wild. New Zealanders call themselves Kiwis – naming themselves after a bird that they have rendered almost entirely extinct. Kind of like Yanks putting wooden indians in front of their cigar stores.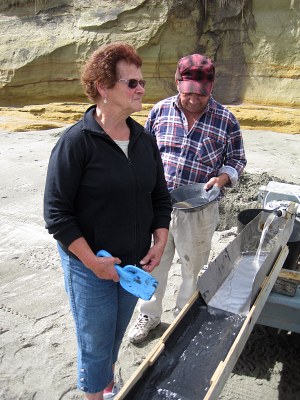 It's a long way to anywhere from the southern tip of New Zealand. But if you drive west of Riverton (which itself is west of Invercargill) you'll come to Gemstone Beach, where you can pick up semi-precious stones on the beach. There is gold in that thar black sand and locals bring a whole compact gold-panning set-up to search for it. The bits of gold are microscopic but added together they can make a pinhead.
A must when you are down that way: Just west of Papatowai is the Lost Gypsy Gallery and gardens. Googling it will give you a better idea of it and a lot of laughter miles. Here's a start.
And don't forget the teapot garden in Owaka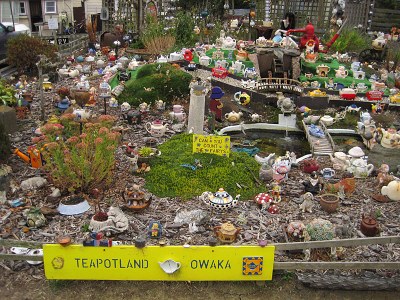 We splurged bigtime on a two-night stay at Larnach Castle, on the Otago Peninsula. Worth it, worth it, WORTH IT! If you go, get room 26 and stay up all moonlit night. Then go to the end of the peninsula to the Albatross Sanctuary where you can watch these huge birds up close without disturbing them.

One of the most memorable places that we visited was Denniston way north on the west coast. In the late 1800s there was a coal mine up there, giving rise to a complete little town that lived up on that high high really high hill. The only way to get up or down was by riding IN the coal cars. It has been recorded that some women who went up on this journey, which at some times has a slope of 1:1, were so terrified by the ride up that they refused to come down again at all - and stayed up there all their lives. There's a website will take you on the ride itself, which is now closed. www.youtube.com/watch?v=1cCwscH8_9s. There was a short poem written by one of the Denniston residents:

Damn Denniston
Damn the track
Damn the way both there and back
Damn the wind and damn the weather
God damn Denniston altogether.

Here' what the pithead looks like now. The mist and cold drove us back to our Westport digs.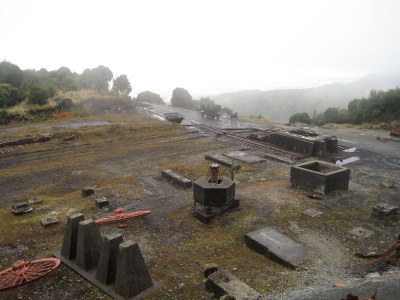 MORE MISC NZ PHOTOS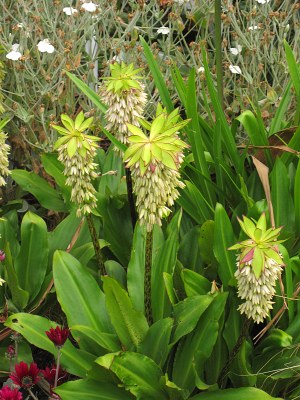 NZ south flowers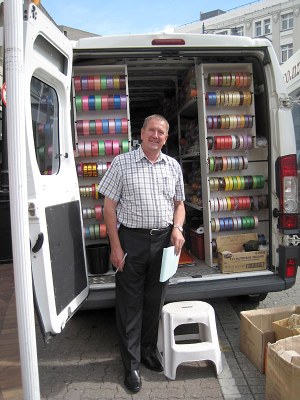 Itinerant ribbon seller, Dunedin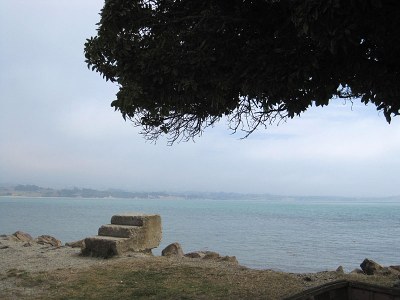 Fleur's steps to Narnia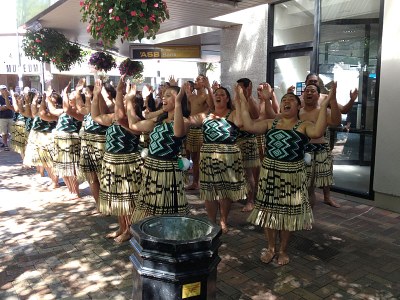 Maori chorus in Nelson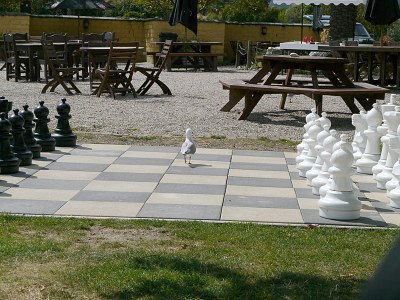 Waiting for the starting gun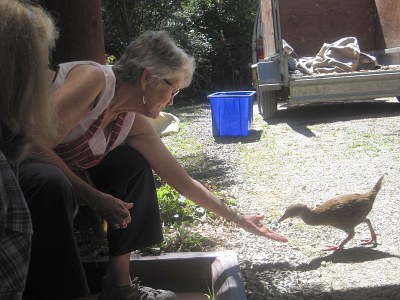 The weka coming for cheese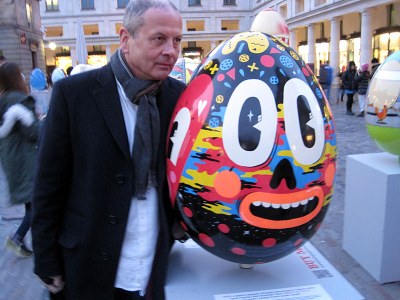 I flew back on March 27th just in time to celebrate my second son Calum's 50th birthday in London.

APRIL 2013
April 12, a great anti-capitalist roadshow given at the Holywell Music Room in Oxford. Almost everyone was over 50, a crowd of wonderful experienced activists who sang like canaries on the choruses. Apologies to those who were turned away – the hall was overfull. Then another Anti-Cap show in Leek, finally a benefit on April 20 for Kennington Overseas Aid (Google-worthy: www.koa.org.uk).

THE FUTURE
On May 12, I will be giving a concert with my brother Pete in Schenectady, New York. Come if you can! Both of us are, as they say, getting on. Lorraine Murphy has made a very nice 45-minute film of our 2012 concert (http://www.youtube.com/watch?v=gvl0sbC73_Q). I've written a small song for him and if all goes well it will be featured on my home page from May 3 (his birthday) onward.

It is to be noted that Mike Harding, of Folk on 2 fame, now has his own online folk show (www.mikehardingfolkshow.com). He is a one-off national treasure, a resource with a galactic knowledge of folkmusic. The show costs ££ to run – I've donated. So can you.

Back to Temple Cowley pools ... visit their site to find out how the battle is progressing (www.savetemplecowleypools.webs.com).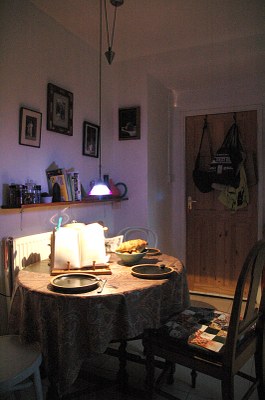 Now for some time travel. The table is set for visitors tomorrow for breakfast. The photo was taken by Belgian visitors back in December, which goes to show how long it has taken to get this newsletter together.