2012 Newsletters
To subscribe to Peggy's newsletter with all forthcoming news and pictures, click the pink e-news signup button above right.
SUMMER 2012 - FOLKSPLOITATION ALBUM WITH BROADCASTER
The collaboration of a septuagenarian American folk music legend and a British experimental dance music producer?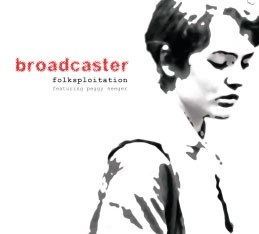 The collaboration of a septuagenarian American folk music legend and a British experimental dance music producer may be highly improbable, but folk grande dame Peggy Seeger and Broadcaster have pulled off a genre-defying album full of hypnotic and hook-laden delights.

Lead single 'First Time Ever'(out July 2nd) is all the more remarkable in that the song was originally written by Ewan MacColl for the 21 year-old Peggy in the early days of their courtship. Broadcaster works his studio magic on Peggy's heart-rending vocals and lays them against dub, groove and techno beats. With the added poignancy of a woman in later years remembering a lost love, the results are nothing short of stunning:

Video:http://www.youtube.com/watch?v=M_rLjYll85Q
Press/radio: Downloadable MP3 from Soundcloud:
http://soundcloud.com/redgrape/broadcaster-feat-peggy-seeger-first-time-ever/s-WSaPU

The track is taken from new album 'Folksploitation' which is both a musical collaboration and a concept. The unlikely juxtaposition of Seeger'sdelicate vocals and Broadcaster's dub, hip hop, funk and techno beats, turns the improbable into the possible, the traditional into the experimental and a conundrum into artistry.

Other tracks on the album include traditional songs from early last century that tackle the still-contemporary topics of inner city violence and drugs. Still others are just great danceable tracks that make you smile. All are given the Broadcaster treatment that takes them into a different realm.
Quotes:
Peggy says: "This is as far from traditional folk music as you can get but these are impossible musical recipes that work despite everything. I feel like I've been musically 'outed' – this is certainly further out that I've ever been! I think Ewan would be fascinated."

Broadcaster says: "I love pushing a song to its extremes - I take all the crispy bits and see what I can do to reinvent them. Subverting songs is a long process and naturally there's a lot that ends up on the cutting room floor. But I think we've achieved something unusual that challenges the notion of genres and pushes a boundary or two."
NOVEMBER 2012
NOTE FROM PEGGY:
I'm delighted by the response to FOLKSPLOITATION. Many, many thanks to all of you who have bought it, listened to it and sent us some wonderful comments.


NEW CD: My new CD (as yet untitled!) will be out in the new year. We'll send you news about where you can get it as soon as we have it!

It's been a very busy time for me with touring and concerts, radio interviews and promos - and an appearance at Hal Wilner's 'Freedom Rides' concert at the Barbican in London. I was blown away by the other artists on the Freedom Rides and had a chance to play with my son Neill MacColl and with Kate St. John. I haven't been playing much over the summer because my partner Irene (aka Pyper) has been here for three months and we decided to investigate these islands for 6 weeks and Turkey for one week. The Aydos Club at Dalyan ... wonderful. We discovered where the sun goes during the English summer! But now I am 'on the road' again, playing up in the North of England and just about to go up to Scotland - you can see where I am here: http://www.peggyseeger.com/itinerary and I really look forward to seeing you there.
Keep well and warm! Peggy x

Here's what they said about 'First Time Ever' and 'Folksploitation' (Broadcaster & PeggySeeger, RedGrape Records)
On the Grapevine...
(See what we did there?!)
"Excellent! I love this!" Janice Long, BBC Radio 2
"It's got under my skin and I think it's utterly beautiful" Dave Gorman, Absolute Radio

"thrilling contemporary takes on old folk themes" Daily Mirror

"There's a burgeoning Scottish tradition of roots remixing ... but it's rarely done as smoothly as Folksploitation" 4 stars, i Newspaper (The Independent)

"hurtles at you in a blazing barrage of offbeats, loops and samples" Daily Telegraph

"Every track on Folksploitation is awesome and for once I don't hesitate to use that word. Folksploitation is a masterpiece." Indie Showcase

"This is sublime..... Seeger seems to be singing to us from the end of time itself - (the video) gives me goosebumps every time I watch it." Spiral Earth

"First Time Ever is the crown jewel and emerges not only in tact but with a new lease of life." Press Association

"Folksploitation is a masterpiece. Not many people get the chance to own one, so buy it.....now." Indie Showcase

"I can't recommend this highly enough. Think of a finely blended whiskey, Seeger's vocals and Broacaster's beat mixed deliver beautifully. The whole is indeed greater than the sum of the parts, and the parts are so very good!" (Cristopher Sharp, Amazon)
DECEMBER 2012
Season's Greetings from Peggy
Well, another year and another Christmas and New Year coming up. Needless to say, I wish every single one of you warm clothes, adequate shelter, delicious food, loved ones near you and hopeful state of mind for 2013. I'm sure we are all remembering to give extra to Big Issue sellers, to food banks, to wherever there are people, animals or areas of Mother Earth in need. I guess you may or may not have heard that I had a bad accident in early November. It was self-inflicted. I thought i was 76 again and did something stupid. I've been more or less on my back since then. I was lucky - no wheelchair and only minimal permanent damage. I've been literally laid back and 'relaxing' for over a month and it's been good for me. I've set parts of my psyche in order during these last few weeks. Try doing it when things get too stressful - just don't self-inflict a reason for it. Season's Greetings: the Season will last, as far as I'm concerned, right through 2013 until next year's December Greetings. Peggy


Peggy & Pete in Concert!
Peggy and Pete Seeger will perform their only joint concert of the year Sunday May 12, 2013 at 7 PM, produced by Margie Rozencrantz at Eighth Step at Proctor's in Schenectady. Tickets are $20, $30 most seats and $50 for preferred front rows as a benefit for Camp Killooleet in VT Ticket information: 518-346-6204. www.proctors.org.