2006-2007
A year definitely to remember (like all of the 71 years I've been through). All the following is only my news bits and pieces. I hope they are more cheerful than the news of the world.
APRIL-MAY

Friday night, just before my farewell concert to Asheville on the 22nd, I was out walking and fell right on my left hand. (Where else would I fall except on one of my most needed extremities?) It was one of those lovely tree roots that push the concrete of the sidewalk up. Guess I was lucky not to fall flat on my face which CAN flatten the face apparently. Wrist swollen up. Made the mistake of not going immediately to Casualty. Did the concert with it. Made a special song to honour the event. If you want a copy, let me know and I'll put it on MYSPACE. Called 'North Carolina Home'. But back to this issue of ER: I went to hospital on the Sunday. Fracture - don't use it - they didn't strap it up - wrong - but don't USE it? It will never be the same again for we were in the throes of moving.

Should have spelled it 'throws' because that is what it was. Belongings were flying out of the house into the trash, into other people's homes, to Habitat for humanity, onto eBay. Wondrous things were left out on the pavement in front of the house and they wondrously disappeared before the next morning. Scavengers prowl through the night - predators in our little jungle. They never miss a thing. We held four porch sales and, once again, were reminded of what a wonderful community Asheville is. Friends, neighbours, dealers, magpies, wheeler-dealers - all turned up on our front porch. Some of them buy without question at the ridiculous prices we had set - others try to talk you down to a nickel on a dime bargain. We were getting rid of house objects but there were also leftovers from the closing of Pyper's Place. When all was said and done, the usual boxes of stuff-we-don't-want but someone-will-want went to Habitat for Humanity or Salvation Army. Every day we were a little lighter and it felt good as well as giving us both food for thought vis-à-vis acquiring anything else lightheartedly.

Then there was the packing up of all the good items left over, all numbered for a future eBay experience. Then there was the moving company, our third one in ten years of intineracy. We have some Make Sure suggestions if you haven't made a really major move before: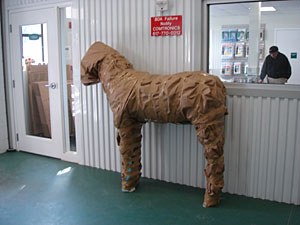 * Make Sure one of YOUR people monitors each room in the house. Our movers turned up with six people, who landed on the house like a flock of birds at a seed tray. Irene (a.k.a. Pyper) was sick in bed so I was the only one available to check on what folks were doing. They were in every room of the house. At once. China was put unprotected next to metal. Delicate furniture items had pieces broken off them. The only one of the movers' staff who had no fatalities was the mature woman who packed up the kitchen. Not one broken wine glass, not one chipped plate. Zena is going with us as she's now a member of the family. Movers broke her neck. Here she is wrapped up and ready to go.

* Make Sure the moving company is not going to pack your stuff into that vehicle outside your door, drive it somewhere else and transfer it into another vehicle somewhere else. A forty-footer picked our belongings up. They were then transferred into an 80-footer. Nothing wrong with 80-footers I suppose except that our little street in Jamaica Plain (Boston) still remembers, 9 months after our arrival, the chaos it caused in the street when it arrived.
* Make Sure you're not sharing your vehicle with another client. This not only means that the moving van is humungous but that stuff DOES get mixed up. Someone else got our CD-player. We didn't get anything of theirs. Unfair.
* Make Sure the movers unpack EVERYTHING (we didn't) and take the boxes before they go (they didn't). Sawing up boxes was a daily occupation. The sad finale is that we tried to recycle all the moving boxes and no-one wanted them. They sat on Craigslist and then on the front lawn in Boston until at last it was time for them to go. Recycling is fine but maybe moving companies need to work with Craigslist so that not everyone will have to buy - and then discard - brand new boxes.
* Make Sure you draw up a very exact plan of where large pieces of furniture are going to go in your new abode. Account for the inches taken up by baseboards and the curve of roof or wall. The movers arrived in Boston and went to work like a whirwind tornado. Put this here, that there ... for the most part my plan worked and the little flat is packed tight and totally habitable. Snail in a shell. Time to move slowly now.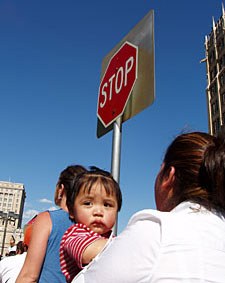 A tremendous march of Asheville's immigrant population on May 1st. Thousands of mostly Mexican people of ages and many many supporters from all nationalities, walks of life, all ages. The banners were something to see - English and Spanish - and the chants, all in Spanish, rang through the streets of our little southern town. Blessedly few rednecks and police. We could have done with some music on the march, especially Mexican music. Marches don't seem to have much you can dance to these days.
I'm contacted by Jacques Vitte, French press correspondent, wanting me to fly to France for a memorial day at the American Military Cemetery in Belloy-en-Santerre. My uncle, Alan Seeger, died on July 4, 1916, at the Battle of the Somme. The memorial was quite something - Vitte sent me pictures. There is also a statue of him in Paris on the Place des Etats-Unis, fashioned after a photograph of him. Alan Seeger is known chiefly for his poem I Have a Rendezvous with Death, which appears in quite a number of books of poetry. Sorry I couldn't go.
JUNE-JULY

Goodbye to friendly little Asheville, to the square yellow house we'd lived in for 6 years. It's now in the hands of Julyan and Madeleine.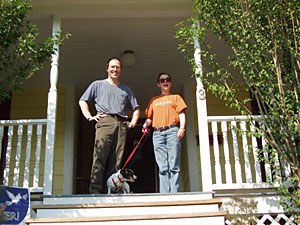 Farewell to the town I'd lived in since 1994; adieu to familiarity, the mountains, the fine weather of North Carolina, the town streets that I never walked out into without seeing someone I knew. And if you didn't know the folks, they'd say hello anyhow. I'll miss our comradely Woodlawn coven.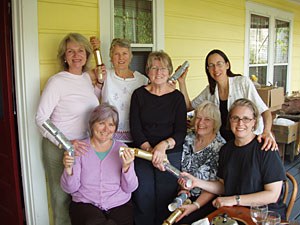 And hello to three days of northbound travel, headed for Boston in Maggie-the-Van, packed to the gills. 'T was OK for us but traumatic for Babou-the-Cat who, in addition to having to eat, drink, poo and live for 3 days in an enclosed moving space, got her only exercise en route outside the vehicle. On those rare forays she was at the end of a leash in strange green places. One MAD cat.

And hello to some of the worst urban roadwork in my experience. The Boston thoroughfares are horrendous. Maggie-the-Van's shocks are in shock. Her internal woodwork creaks and cracks. Potholes dot the asphalt, uneven lumps and bumps loom up constantly and without due notice. No one complains except me - I guess they're used to it up here. No more 'hello' unless I instigate it, very few eye-to-eye greetings as you walk along the pavement. Mind you, once you instigate the sun rises in someone's eyes or a smile is bestowed. But so many lone pedestrians with their ear-buds in, eyes fixed on the pavement, the past or the future. The legacy of overcrowding. That's what cities are: overcrowding. Are we meant to live this way?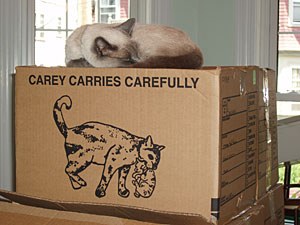 We arrived on June 13. Babou makes herself at home in the sea of boxes.



The premises: a four-room flat in Jamaica Plain, the bottom apartment of a triple-decker. Two families with children above me. Yannik (just a year old) comes down to play the piano. His sister Stella (5) is a sunny little cookie who talks incessantly and is intelligent and interesting with it.

The space? A bedroom, an office, a music-cum-dining room and a living room. Roomy hall, reasonable-size kitchen. Shared washing machines down in a packed-to-the-ceiling cellar, a shared back yard. Sold the Steinway upright and brought the electric piano from Pyper's Place. More sociable, to be able to turn down the volume of the piano at night. Mail was waiting for us: an invitation to the first meeting of the residents of our 7-block long street. The occasion? To establish a Crimewatch Committee. The inspiration for this was a spate of recent muggings, break-ins, and car thefts. While not an encouraging first night on Paul Gore Street it was a great occasion to meet a dozen concerned neighbours. It's now called the Paul Gore Street Neighborhood Watch group. Now there are block parties, street yard sales, and weekly street clean-ups. In good weather, once a week, some of us go right down PG Street, from Centre to Lamartine, with big black plastic bags, keeping our street clean. Feels good. All instigated and held together by one woman, Jenny-Next-Door. There's a lesson there.

All three of us are getting used to the place and the lack, compared to the house in Asheville, of space. 2200 square feet down to 1200. Babou was kept in for a week, marking every bit of familiar furniture with her facial fur, sleeping in a different place every night, not talking to us. At night we took her out on her leash. When she started snarling we opened the pantry window and she streaked out, solo. Did I tell you that Babou was declawed by her previous 'owners'? Savage, cruel, criminal thing to do to a creature's chief means of defending itself. Well, now she braves the neighbourhood - there are plenty of cats defending their territories here. At night, though, all through 2 months of last summer, she took us out walking to show us what she'd discovered during the day. Tail in the air, darting under and in and out between parked cars, checking that we are being appreciative, stopping and starting, disappearing then appearing again, for an hour each evening. Special time. She's getting her summer coat, shedding fur all over the house. Dogs have owners - cats have staff.

Jamaica Plain: a busy single shopping street, somewhat down-at-heel but coming up. Will never by up-at-heel, though. Not till they re-make Centre Street. The usual concession hardware, drugstores, thrift stores, phone/insurance/video etc. Not a pretty High Street. JP apparently gets its name from the way the inhabitants drank their Jamaica rum: plain. We visit the Loring-Greenough house, from which a British sympathiser fled from the Yankee insurgents in 1776, leaving his wife and children behind. We try the local restaurants, settle on Pomodoro on North Harvard Street in Brookline as our favourite. We shop at the Harvest Co-op and the City Feed (three blocks away, a quality blessing). We walk every day to view the lovely old houses. We drive down to Plymouth for a dinner with nephew Nicky and his wife Alice Johnson - on their boat, which they have sailed up and down the east coast for the summer. Lovely old craft and delicious grub.

AUGUST-SEPTEMBER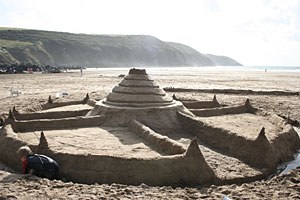 England. Finish recording for the third and final volume of the Home Trilogy. Family visits and get-together at Pickwell Manor for a week. Big old aristocratic place in Devon, about a mile from the beach where every day The Castle would be built. Neill and Calum preside and each member of the family has their preferred role. Some dig the main trenches and fill the buckets for the tedious job of making the main mound. Others can't wait to build the walls. We have superb constructers of sand stairs. I prefer making the lacy little drip castles. We do have a few who ... just watch. When the tide comes in people come from all over the beach to watch and take bets on how long the whole thing will disappear. Great excitement.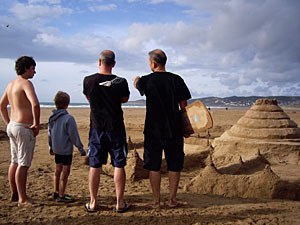 We drive down to Devon. To Dartmouth, looking for a place to for Irene to live till I retire and join her (she's not allowed to stay in the USA any more since Pyper's closed. Only 90 days a year.) Dartmouth is up-hill-down-dale, built on a hill, with a nice little port area. The military college stands alone on a northeast slope - you rarely ever see it. Prices are heavydown there - too heavy. We drove around a lot, found very little even possible. Hard to get digs too ... but Irene has a way of spotting unusual features in the world. She spied the Resnova Floating Inn in the middle of the Dart River. An old piece of work, from way back, bring brought up to code by new owners. We stayed there two nights and had three meals - excellent, excellent. An experience not to be missed.

Wonderful dinner at the home of Ian Logan (Ewan's nephew) and his wife Gail in Kensington. Tea at Claridges (Google that too) with Penni and Derek Harvey-Piper (Calum's inlaws). Franklin's in Dulwich with my daughter Kitty, where you can dine on pigs' spleen, sage & red onions; tomato, oatmeal and Ticklemore tart; aubergine and flat bread; lack pudding on toast; Cropwell Bishop, Cotherstone & Waterloo (all cheeses). House-made bread to die(t) for, very handsome staff.

Up to Manchester on September 23 on the Peace Train for the big march against Blair and Bush. The organisers escorted me with some transportable speakers from car to car, singing. I never was a good public or group singer but I was the best they had at the time. It was an interesting railway car ... Anthony Wedgwood Benn, Bianca Jagger and hordes of press bods. I'd remade the text and tune of "How I Long for Peace" (which I had originally set to 'Will Ye Go, Lassie, Go') and sang it from the platform to the tens of thousands who attended the march. Irene and I had made a small chant specially for the occasion and we handed out leaflets with the words. Good to see so many young people and so many different nationalities of people.

The Guardian newspaper mounted an excellent exhibition of photographs from the Greenham Common years.( If you don't know what the Greenham Common Peace Camp was, just Google it.) Irene and I went with some women friends. A whole group of us stood together right there and sang 'Carry Greenham Home'. In an adjacent room was a quiet chaos of young children receiving a lesson of some sort. A pride of older women singing caught their attention. Their teacher asked if she could bring them out into the exhibition room. Of course! That's what we're all here for! All the little girls came out ... the little boys stayed behind, all but one. The teacher urged us to explain and sing the song again, which we did - lovely to see the little girls getting their voices around the song.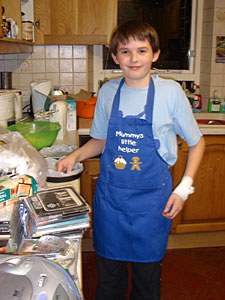 End of September, Irene flies back to Boston and Peggy stays on to tour with Martin Carthy, Norma and Mike Waterson. This combination is now a yearly fixture it would seem - because my then-agent Henry Chesterton lives on the west side of England our tours seem to swan up and down the western side of the country. Joel Chesterton makes me a cake.

I have a new UK agent now, Alan Bearman. Brave man. This year he arranged a number of concerts with Martin, Norma, Mike and I down n Devon and Cornwall. Lots of lovely driving. One free night I stayed in Fowey, Daphne du Maurier's stamping ground. Streets so narrow and winding I could barely get the little van down them. Go there. Stay at the Fowey Hotel and one of the corner rooms. Wake up looking out over the bay. You won't want to go home.


OCTOBER

On the 17th October, the University of Rhode Island booked me along with Ronnie Gilbert (of the Weavers) and Rosalie Sorrels (definitely a solo act) for a symposium/colloquium. Rosalie is a hoot, a rich treasure of humour and anecdote. She just coasts along, a brilliant storyteller with a life to tell. Would like to do more events with her.

Meetings with old friends now - Lorraine and Bennet Hammond, Courtney Cazden, Ruth Perry, Judith Tick and family member Kate Seeger. Meetings of the Neighbourhood Committee (previously the Crimewatch, which seemed somewhat of a pessimistic name).

NOVEMBER-DECEMBER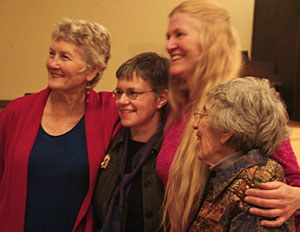 November 5 - concert and mini-colloquium in Cleveland, with Kristin Lems arranged by the indomitable Deborah van Kleef, singer and activist.

Nice to meet Kristin after all these years of admiring her work. AND Peggy Lipschutz, who constructed large pictures onstage while Kristin sang.- [Peggy, Deborah, Kristin, Peggy]

Remember remember, the 7th of November. On the evening of the 6th I joined some other JP folks, participating in a last-minute phone-in to voters in Ohio, urging them to get out to the polls. Excellently organised by Move-On, really professional. I must stop deleting so many e.mails that urge action - trouble is there are so many of them now, easily a dozen every time I open my mailbox. I should pick one or two that I will always commit to and act on those. Not I should. I will. What cheers greeted our new mayor, Patrick Duval! Since then he has unfortunately blotted his copybook by making exorbitant purchases for his governmental house and his official transport. And the Democrats taking over both House and Senate? Great news but .... we'll see.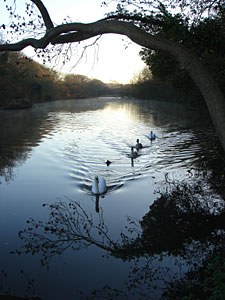 - once again, Irene has found a gem of a place for us to stay. The Boat House near Bearstead (near Maidstone), Kent. Small, refurbished, right next to the lake that came into existence when they dug the stones out for Leeds Castle, back in the mists of memory. Every morning the ducks and swans came for whatever we had to throw to them.

The Mill House stands to the left as you feed the swans - like something out of those old photos that they made children's puzzles out of. But like so many places in the USA, even in this isolated idyllic place you could hear the motorway 2 miles away. How rarely we are out of the vicinity of that sound of vehicles roaring past.


We fly back just before Christmas to a happy cat, bringing the flu with us. A week of Not Worth Writing About. Went to see Notes on a Scandal. There aren't precious few main movies about lesbians and we felt this was not a good way to start. But Judi Dench was, as always, brilliant in the part. I saw her first in London back in the 70s in The Caucasian Chalk Circle. Have never seen her do a bad job of any part she takes on.

Very quiet Christmas but a wonderful First Night. We had champagne and a quiet dinner, went to the centre of Boston for the celebrations. Parade was very long and very disappointing. Best part of the pre New Year was strolling Boston Common and watching the ice-skaters on rink there. Shaky but determined little ones being guided around the rink by their parents; teenagers self-occupied with being cool; older skaters just quietly going round and round and round; the occasional brilliant skater almost dancing on the ice. Home to phone home and phone friends. Another year of change - like all New Years.


2007

JANUARY

Ben Harker sent the first draft of his biography of Ewan MacColl. My contract allowed me to express my opinions. I expressed them. Full stop. The second draft arrives. I express again. It's coming out in August. He's done an excellent job of researching facts. Still negotiating the contract for the reprint of Ewan's autobiography Journeyman (Manchester University Press has undertaken it). I wrote a new introduction for it. It will follow the old intro. The Paul Gore Street Neighbourhood Committe meets regularly. Hardly any men attend. There've been more break-ins ... The weekly street clean-up, which was only done by two or three of us regulars, has ceased since the cold weather came on. It was quite interesting trudging down the street in the good weather trailing a black garbage bag. Paul Gore residents sat on their stoops or passed us by and thanked us for cleaning the street up. No volunteering to come and help. Just thank yous. Interesting. Keep calm, Peggy. Just say 'You're welcome' and an enthusiastic 'Join us!' But now that winter is here the Street is getting very dirty.

Now we come to January 12th, a huge turning point in my life. Perhaps the introduction to old age. I suppose at 71 I should have expected something like this. I'm sitting at my desk at the computer and my right knee begins to feel odd. I watch as it swells up till it looks like half a grapefruit. Very painful, can't bend it or stand easily. It hasn't been my favourite knee since I was 21 and now it's letting me know I'm not its favourite weight to carry. Zippo-presto to Brigham and Womens Hospital for a delightful 8 hours. You don't want to hear the rest of it so I'll make a long story nonexistent. I was on two crutches for two weeks and one crutch for a month. Crutches were the pits for my armpits. If you need to use them don't put them in your armpits. Ask for instructions. They are meant to rest below said pits. Either I didn't get instructions or I neglected them and the old right shoulder is in serious trouble.

Nonetheless, on January 27th Irene and I fly to Scotland - Odetta has called in sick and the Celtic Connections concert on the 28th wants a name to take her place. Don't know why they needed me for a Celtic concert - they already HAD names: Karine Polwart, Karan Casey, Tori Gilmour, Laura Boosinger and others. Fly back on the 29th. Just the thing to do when you are on crutches. BUT: a begrudging steward put me in business class there. Got the same head-steward coming back and this time without grudging he did the same thing! Guilt trip: Irene is in the sardine can in the back.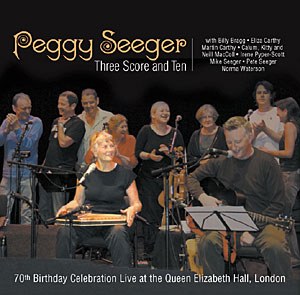 NEW CD! My 2005 birthday concert has come out on two CDs - Appleseed CD1100. Bless their cotton sox, they did a really good job of it and it's getting good airplay. Entitled Three Score and Ten. TS&T for short. The high spots for me are Calum and Neill accompanying me on 'Love Call Me Home'; conversation with brother Mike; brother Pete's 'Where Have All the Flowers Gone?'; Billy Bragg's unrehearsed, almost hesitant 'Darling Annie'. Latter is a courting duet between me and Billy and he is so good-humoured about it that it's almost better than if he had learned the song. He was perfect for the part. Other high spots - Lord, there were so many! Whacking out 'Logan County' on the banjo with Eliza Carthy on fiddle with our feet stamping like hoydens; a Waterson/Carthy version of 'The Lowlands of Holland'; standing next to daughter Kitty in the chorus lineup for 'Careless Love'; 'Happy Birthday' sung by all with my 8 grandchildren. Irene and James McNally splendid on spoons and bodhran for 'Different Therefore Equal'. Did I describe this in the 2005 WHAT'S NEW? Nevermind. I'm a Gemini. I do almost everything twice.

FEBRUARY

The Ralph Nader film, An Unreasonable Man. I remember when Nader was a hero, saving us from corporate misdeeds, mislabelling, mis-everything. We all remember what happened when he joined the presidential race without a hope. I understand why he did it but still think he shouldn't have. An extraordinary man nonetheless and we owe him a lot. Google him and find out how much of his dedication has benefited you and the world.

Endless rehab for my knee, poor thing. It's OK till I stand up. My wrist is not going to heal completely. Can't play the autoharp easily any more. And my left shoulder puts some of the ability of my right hand out of kilter. Wheelchairs take me to and from airplanes. I whiz away to the Folk Alliance in Memphis - love seeing old friends at these events. A Jane Toohey is putting out a Naked Folksingers Calendar. I might participate if I can lose some weight, get my nails polished and book a tattoo.

MARCH

Kansas City concert where I meet Anne Meeker Miller. If you have (or intend to have) a baby, get her book Baby Sing and Sign. And do visit her website, www.babysingandsign.com. Singing and signing with babies, using folksongs!. Then off to that icon folk venue, The Ark, in Ann Arbor. Dave and Linda Siglund should be in the Guinness Book of Records for decades of survival as an excellent folk venue. First sang at The Ark back in, was it 1980? With Neill and Calum and Ewan. Two Rivers, then Chicago, where Diana Jones shared the concert with me. Her first album (Remembrance of You) is her best in my opinion - a delicate, mournful voice that is yet capable of sharp tonalities when needed. All the songs her own and not one stinker among them. Different as we are, we joined in on each other's songs. I'd love to do it again.

A Seeger family symposium is held in Washington - only time I've seen more Seegers together in one place is at the family reunions. Two concerts with Pete and Mike and hordes of singers in the audience! Splendid work done by the organisers - films that I've never seen before not only of Pete and Mike but of myself! One was of me playing the fiddle with Ralph Rinzler on banjo - I wasn't bad at all. So very long ago ... but I never would have been good enough on the fiddle so maybe it's lucky that Mary Snoddy borrowed it and disappeared. Speaking of disappearing: two high-school friends, Cynthia and Marilyn, appeared at my elbow in Washington. I was busy talking to someone else and said 'just wait a moment'. When I turned around they'd gone. C & M: contact me. I'd have loved to talk!

A long overdue visit with Marcy Marxer and Cathy Fink, whose volume of output, vocal and instrumental versatility and downright stunning variety of music never ceases to amaze me.

APRIL

Irene and I spent the whole month in New Zealand, on the Marlborough Sound, on the north coast of the south island. It's a good-weather area, almost tropical, the whole of this coastal northern strip, from Nelson over to Picton. The tree ferns are huge, there are flowers and trees that I don't recognise. The house is surrounded by, among other things, by manuka trees (where the bees come to feed and make the manuka honey that sells in England for £5 for a very small jar). The days are lovely and warm. A lovely month.

Our friend, Ruth Perry, drops in from Boston (USA) and stays for three days. We go on the mail boat out to the islands. Ruth and Irene have trouble drinking their coffee. The exchange of mail on the outpost piers is carefully choreographed. The boat just coasts in to the pier end where the one of the locals is standing in just the right place to hand down a bag of mail and take up the delivered bag.



We stop to go ashore where Captain Cook landed in January 1770. This lamentable occasion is marked with two types of memorials, one being a cumbersome concrete and metal thing that wasn't worth photographing; the other being a series of Maori totem poles. Ruth stands beside one to show us its height.

Ruth was great company. One evening was spent in singing all the old songs we sang during the 60s, songs I'd 'forgotten' because we just didn't sing those kind of songs in England during my 35 years sojourn there. I was surprised by how many she knew and also pleased with how many of the words I could remember.
PHOTO -Irene and Ruth on the Mailboat

Off we go down the east coast to Kaikoura to mark Irene's 60th birthday. The country between Blenheim and Kaikoura is breath-taking and it's much colder here even though it's quite near to Marlborough Sound. The beaches are black and the sea is wild, coming straight across from the tip of Africa. Or lower. The wind is arctic. The mountains mountain-high and snow-covered.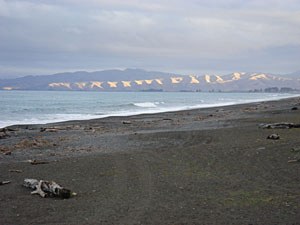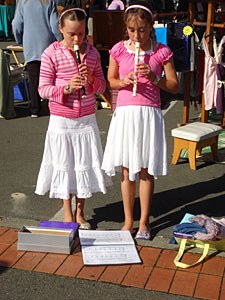 The nearest town is Blenheim, not very interesting architecturally but a fine well-appointed place. The drive from the Marlborough Sound goes through hills ruined by the demand for New Zealand lamb then levels out into grapevine country. On Saturdays we go into Nelson for the wonderful market, where you can buy organic vegetables and bread and enjoy the enjoyment of folks who come especially to see friends there once a week. There are always musicians playing there and the standards are very high. Or very touching.

It was a quiet month, with lots of time spent in hanging over the balcony watching California quail and their bouncy little chicks, watching the sun pass over the bay and the hills beyond, listening to the tui and the bell-birds by day, to distant owls by night. The moon rises and takes command - you can almost read by her light when she's full. When she is visiting elsewhere at night, the dark is a perfect backdrop for the waterfall of Milky Way stars. Old friend Orion is my favourite and I learn to recognise the Southern Cross. It's hilly here. My leg is still bad and I can only walk on the level. Up or down anything, hills or stairs, are no fun but at least I'm off the crutches. So we drive down to the beach to walk. Irene still has knees and can hillwalk. But then she's a young thing. When we are in the car we put Mariza on - her CD Em Mimm. Fado, that glorious swooping meticulously controlled Portuguese style of singing, sensual, decorated, passionate. I bring her back to JP where I turn her 'I' track on at least once a day. Yes, April was a happy month.

MAY

The trip to London, from door-to-door, takes a total of 36 hours. Don't do it unless you have to. I had to. Had to get my offspring-fix, see these enormous boys I bore and my dainty daughter. Dainty but she's helluva strong from the work she does (travelling round the world with, among other bods, production companies). Here also to record the final song for the last volume of the Home Trilogy, to be called Bring Me Home. North for the Kendal Women's Arts Festival. Kendal has flipped over from the B-side since I was last there. It used to be right on the old London to Glasgow road and the trucks would trundle through like a line of elephants, then up up up and over the moors on that perilous two-lane road to Shap, down into the lowlands to the one-lane bridge with a traffic light. This was the main London-Glasgow road and the traffic would back up on both sides of the little bridge for miles. Kendal was a trek-through, ruined by traffic, in those days. Now that the M-6 has provided a by-pass, Kendal has become what it used to be, a very nice little market town. The old brewery has been changed into a very swish arts centre where they treated me like a queen. They treat everyone like that there.

Back to the States. Seems as if I am living in airplanes but the wheelchair to and from the plane makes it possible. One day to turn myself around (unpack, do laundry, repack tour stuff, gather instruments, answer really vital mail, pick up tour information) and I'm off for gigs in California and Ohio.

California Autoharp Gathering. I did tell them that I don't play the autoharp any more because of my wrist and my shoulder. No matter. Bring the banjo and guitar and sing and talk. But the high spot was hearing those autoharp players, especially my room-mate, Jo Ann Smith. Magic magic. I was bowled over - Todd Crowley gave me an autoharp, a lovely creature with a fascinating set-up of chord-bars, only one of which sounds a whole 'chord-as-we-know-it'. Only by holding down two bars at once can you get an acceptable chord. But one can get unprecedented combinations on it. It's a long time since I've learned an instrument and I'm not sure I have time or mental ability to learn this one. I'm trying. It's rather like the game of Mastermind.

After that, Peter Pardee (banjo connoisseur - knows more about the banjo than practically anyone I've ever met) drives me up to Columbia with side excursions through gold rush country. Look at his website, www.thebanjoman.com ... impressive. He takes beeyootiful care of me, drives me everywhere and doesn't even talk about banjos all the time. He and his wife, Eda, have arranged something very special: I will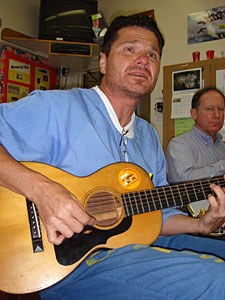 sing at the Sierra Conservation Centre (a fancy name for a prison) where Eda teaches. Now that was something I would like to repeat. I move from classroom to classroom with banjo and guitar in the company of Peter (a deft banjo player himself) and Moses. Ah, Moses - an inmate who has made some stunning songs about prison life. No need to tell you who went down best, especially when Moses entertained a Spanish-speaking English class with songs on Spanish. Made my day to meet and hear him. Will definitely keep in touch with him.

Another inmate, Albert Battles, drew a large, astounding pencil sketch of me - just received in the mail this morning. I hope the SCC isn't an unusual place - I would like to think all our corrective facilities are like this - but I don't think so.

Chrys Mollett (the excellent music store in Angels Camp) drove me out to see the sequoias. Those forests are the real worshipping place - you just want to get down on your knees in front of these huge, dignified survivors of man's pillage.


JUNE

Lovely, a month at home! If you stay home all the time you may not appreciate the full import of that exclamation point. I am away so much ... I do love to get up and go, I see so many new places, meet so many people, but walking in the front door knowing that I'm going to be here for one full uninterrupted month is just heaven. Lots of work to do - get ready for summer gigs, keep up with rehab on knee and shoulder, sweep and wash down the back porch, figure out what I can give away. Do a detox now that I can control everything that goes into my mouth. Listen to all the CDs people have given me (I listen to everything). Do a lot of old piled-up jobs. Even snails must clean their shells out.

In general this year
A lot of people leaving life - friends Bob Lawrence, Terry Whelan, Joe Glazer, Howard Larman, Howard Goorney. Having lived for 30 years with Ewan (20 years older than myself) and being so much in the company of so many of his comrades, this passing on of friends has been going on for a long long time. Doesn't get easier.

Other people's projects that affect me:

1) Re-issue of the Blood and Roses series of ballads (Ewan MacColl & Peggy Seeger) by Camsco Music
2) Peter Cox is writing a book about the Radio Ballads and planning a live concert of Radio Ballad songs in Birmingham, UK.
3) Anna Kijas, my personal assistant, has finished typing up my China diaries (the records I kept when I was in China in 1957). I had (have?) verbal diarrhoea.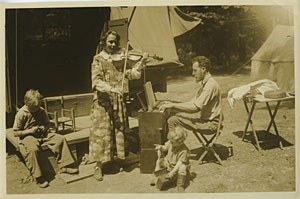 4) Bro Mike and I are busy sorting old family photos. I particularly like this one of my father's trip down south in the 1920s with his first wife, Constance, and the three boys (Charles, John and Pete). They were taking classical music to play to the southerners ... ! That story another time.


SNAPSHOTS
| | |
| --- | --- |
| facade to Let (London) | the Third Fifth bank (Chicago) |
| refectory table (Oxford, UK) | Picton wall mural (New Zealand) |
| Nature trying to escape | an RV camp garden (Virginia) |
| two large people (England) | Chestnut Hill mall art (Boston) |
| Nature trying to escape | rubber band world |
| | |
IMPORTANT TRIVIA

FYI

I've had a number of e.mail enquiries about The New City Songster (the 21-issue series of new song booklets I edited, had published and sold at gigs). NCS is now available on Microfiche. There are 450 or so contemporary songs of all sorts (in English) from 1965-1985, with music, texts and chords. Lots of these songs are still pertinent today. The Working Class Movement Library in Manchester (UK) has a page for NCS on its website. (www.wcml.org.uk). It costs $100 and is available from: http://www.lexisnexis.com/academic/catalog/2006pdfs/PopCulture.pdf

MY FAVOURITE CDS RIGHT NOW

MARIZA (album: Em Mimm and no other) - fado singing
DIANA JONES (album Remembrance of You) - country singer/songwriting
JO ANN SMITH (album: Rhythm of the Rain) - autoharp playing
DON LANGE (album: A Change in the Air) - for years Don's been one of my most favourite songwriters. After a long looooooong hiatus he's writing again.



BOOKS

The Desert Children - Waris Dirie (about female sexual mutilation) - better information than writing style

The Tipping Point and Blink by Malcolm Gladwell - on human behaviour

The History of Almost Everything - by Bill Bryson

The Walmart Effect - Charles Fishman

You're Wearing That? - Deborah Tannen - about mothers and daughters

I Only Say this Because I Love You - an older one by Tannen: family relationships

A is for Ox - Barry Sanders ... about the rise of violence in relation to the decline of literacy; good reading for folksingers.

CODA - a number of people have asked for my PUBLIC RADIO PAYUP SONG, a song made for radio fund-raisers. It can be downloaded from the following site:
http://www.realpeoplesmusic.com/performers/peggy/music.htm

----------
I'll have to stop. It's the end of June and besides I've reached the bottom of the page. If I've forgotten anything, please write and tell me. Oh yes - surprise surprise: Gordon Brown is the New UK PM. Now I have to pack up to go on tour. Where? ASHEVILLE, which is where this whole too-long saga began.

DAILY MANTRA: We have to keep jumping off cliffs and developing our wings on the way down. (Kurt Vonnegut)