2005-2006
So much has happened! Where to start? At the beginning? There is no beginning. At the bottom, as on a staircase? Might work ...
Life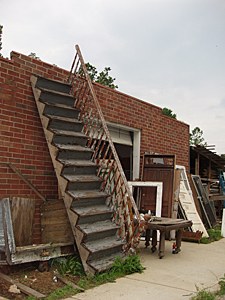 Fatal flaw in that method. Best to begin with a general month-by-month overview of the last twelve months or so. This is for me as much as for anyone else - my repertoire book (a list of places I've sung and what I sang there) helps me to remember where I've been. Helps me not to repeat too closely should I return to that place soon. It's a habit that Ewan and I began way way back - about 150 pages to each spiral notebook. I'm on volume 14 now. These books helped immensely when it came to dating the contemporary songs for the two songbooks. (I also write down what I wore on each occasion - an opera singer once told me that that's one of the definitions of a 'diva'.)


ACT I 2005

FEBRUARY
A perilous three-day sojourn in Montreal where I attended, with flocks of other musicians, the Folk Alliance conference. The cold was dangerous. Life-threatening. This was the only time I have taken a taxi to go A HALF A BLOCK. It was too cold to walk, to think, to breathe. Every nerve, muscle, vein and artery, every brain cell shrieked "Flag that taxi! Right NOW! Have the driver drop us inside the hotel. We won't survive the trip from the taxi to the front door." I was never so cold in my life, even when I was at Putney, the farm school in Vermont, back in 1950. My daily job was to brush the back ends of the cows before they were milked. I'd get up every morning at 5 a.m., put on five or six layers of clothing, wade through the knee-high snow and arrive shivering uncontrollably and all extremities frozen solid. The milking manager (milkman?), a randy, ruddy, playful man, would greet me with a generous squirt of milk from an udder, right in the face. The warmth was so welcome!

But back to the Folk Alliance: everybody who's anybody, anybody who wants to be somebody, somebody who loves to meet everybody is there. Agents, artists, producers, directors, manufacturers of every possible accessory a folk musician might want; stalls, music, chatter; how-are-you?-haven't-seen-you-in-years!, who-are-you?-i-know-you-and-we-can't-remember-each-other's-names. You know the kind of scene. Sad - because us post 1920s baby-boomers are bidding farewell to one or more of our numbers daily. But then the memorials give us a chance to get together to celebrate the life of New Pioneer into the Great Beyond and see who's left. I used to turn first to the comics in the paper - then I began to turn first to the personals. Soon I will be turning first to the obits in the folk music magazines. Some philosopher commented that death is comical. We don't do that any more. Now it's sex that's comical.

MARCH
Those who determinedly follow these WHAT'S NEW missives will note that Maggie the Van (1992) was traded in for a new motorised snail shell for me. Still four years to pay off but and was christened Henry. He's had a painless sex change and is now Maggie1. Milkwaukee, Manitowoc, then Cleveland where, thanks to Deborah van Kleef and her crew, I had a splendid weekend in the company of Rosalie Sorrels. Her casual stage artistry and her warm person always impress me. Her off-the-cuff humour and leisurely approach to holding all of the assembled company in her hand is the Ur Sorrells Method. Long life, Rosalie - let's do it again.

Oh yes ... I had my carpal tunnel operation in March. Looked like a zipper - here's a photo, taken a week afterwards, just so those of you planning to have the same thing done will realise what it entails. Took a long time to recover from but I can play again. Scar's nearly gone but I need to keep working on my wrist, which tends to stiffen up. Makes barring chords almost impossible. But then I never was much good at that anyway.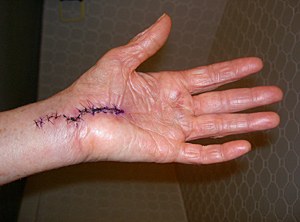 A week after op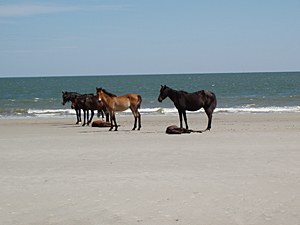 APRIL passed by, as nature intended, with showers, blossoms and preparations for May. I took Irene down to Cumberland Island, off the coast of Florida/Georgia for her birthday. Generally speaking, places are unspoiled and people come there because it's unspoiled. Then people spoil it, complain that it's spoiled and move on. This hasn't happened on Cumberland Island because the Carnegie family own almost all of it and have kept it uninvaded. Members of that family work in the kitchens, in the garden, in the office. Only a certain number of visitors are allowed on the island at one time. You can camp but you have to book. Or you can can stay in the one hotel, the Greyfield Inn - expensive but for a special occasion it's the only place to go. We stayed there two nights for Irene's birthday - then we came back to celebrate mine ahead of time for another two nights. Cumberland Island beckons. Wild horses on the beach, live oaks everywhere, long dirt roads with NO cars on them, alligators, armadillos, snakes, a deserted slave-village, a burnt-out manorial home. Unspoiled.

MAY 29th
For 69 years I've been heading towards my 70th birthday and it was the first birthday, other than Cumberland Island, that I celebrated prematurely. The hooly took place in the Queen Elizabeth Hall in London, along with a thousand other friends, acquaintances, comrades and well-wishers. The preparations were complicated and for some (like my England agent, Henry Chesterton) fraught. Nightmare stuff. Insomnia instigators. For others, it was routine - my musician sons Neill and Calum and my graphic designer daughter Kitty work on these kind of shows for their living. They were in their element and it warmed my heart and soul to see the way they threw themselves into the project. My daughter-in-law Kerry was the hub of the wheel as they found glorious support musicians, abracadabra stage manager and ditto sound magician (there were 32 microphones), a lustrous person to handle the lights; Kitty's friend Katie filled in all kinds of job-gaps. Brothers Mike and Pete, flew over to be there and sing. Respective wives Alexia and Toshi came too and various relatives were out there in the hall. I was so glad to see them on my home territory that I went right back to childhood and jumped up and down for joy right there in the hotel lobby.




First time ever together in England

My USA agent Josh Dunson came over with his wife Jean. Martin Carthy, Norma Waterson and Eliza Carthy sang, among other things, my song Che Guevara. Eliza and I sat there like two hoydens and whomped out Logan County Jail on fiddle and banjo. Billy Bragg sang Darling Annie with me. Kitty, Calum and Neill as well - singing and playing with them has ever given me yet another of my many mother's rewards. Everyone joined in on choruses and I saw so many old friends afterward that the cockles of my heart neared combustion point. I want it all to happen again.
The whole shindig was recorded and filmed by the BBC and who knows, the whole thing may come out on a CD! Keep an eye on the CD section and book now for my 80th.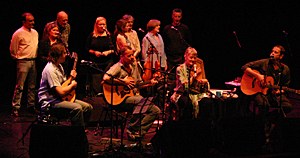 JUNE
Irene and I take off on a brief Peggy-tour (Birkenhead and Burnley) then over to Ireland to unwind. Belfast, Irene's home town, then down along all the ins and outs and ups and downs of the West of Ireland coast to the peninsulas and back by my real birthday, June 17, which Irene had planned like Napoleon must have planned the Moscow campaign - except it was summer and 350,000 men did not die. What a day! Breakfast at Patisserie Valerie, a walk to the London Eye . Slowly, ever so slowly the big wheel turns - up up up we go, getting the best view of London you could get, 360 degrees.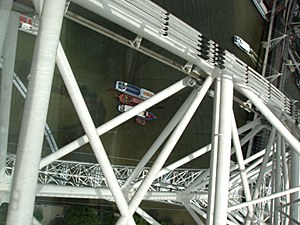 Looking down from the London Eye


Then tea in the lobby of the Royal Festival Hall, with live jazz playing and Londoners doing what Londoners do whenever the sun shines - enjoying the rare day. Walk back over the river and taxi to one of the two Victorian bath houses remaining in London for my favourite: a massage. I'm a hedonist of the first order -I will let ANYONE put their hands on me to soothe my aching aging muscles. Sometimes I feel like those cats that lie down on the pavement asking for their bellies to be stroked. The atmosphere of the old bath-house added a new touch to the process. Old tiled staircases, vaults in the basement, a lavender-and-old-lace odour of another age. Into a taxi and over to Claridge's (look it up on the web: London primo) for Afternoon Tea. Claridge's doesn't serve lower case afternoon teas. Who should turn up but Calum and Kerry dressed to the nines - they both know how to do it. Afternoon Tea: Claridges knows how to do it. They probably invented it. Whiter-than-white tablecloths and napkins. Heavenly little Sandwiches and Cakes, Tea, Tea and more Tea. Elegent Waiters who Hover Discreetly, who pull your Chair out for you, pour more Tea the minute you've put your cup down. The Ritual lasts several hours. You can only afford it once and even then you have to save up for it. Only the Best People (like Us?), go to Claridge's for Afternoon Tea. Bono turned up in his baseball cap, two daughters in tow. On we go, to a private club for drinks, one of those clubs that has no number on the door and only certain taxi drivers know its location. Neill and Justine turn up, and Kitty and Lewis, all of them dressed better than I was, probably better than I have ever dressed. Then off to a Chinese dining establishment (not a restaurant, not an eating joint, but a Dining Emporium) for a meal that would blow your little cotton socks off. Pubbing afterwards - home by 3 a.m. Irene's purse must be flapping in the wind. Oh my - she knows how to celebrate! I'd like to marry her. I have no photographs of her that do her justice - the photo below tries.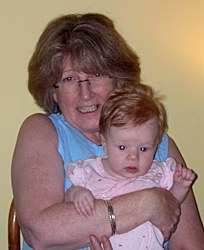 Irene and friend's daughter Tess

JULY was JULY - I think we stayed home. I do remember a lot of heat and neighbours dropping by. In our street you sit out on your front porch in the sun, a signal to neighbours that gossip is about to happen. Clare and Pat drop by and Sharon if she's out with her dog. I do love Asheville.

AUGUST
Teaching at Augusta Heritage in Elkins, West Virginia. Vocal week. I love teaching and I got two excellent groups - songwriting (all women) and ballads (mixed). I learn when I teach, almost feel as if I'm being taught. Am going back again this year. It's a laid-back, creative time - creative for everyone, including me. Wrote two new songs myself. Then a drive up to Bard College (New York) to the Copland Festival with Judith Tick and brother Mike. Philadelphia Folk Festival - hot hot hot with rain showers. No one moves from their place on the grass when it rains. It's just up with the old umbrella, on with the raincape or just sit there and get soaked. Afterwards the steam rises into the hot summer air. The music continues through it all and everyone's happy.

Up to Vermont for the family reunion. So good to see everyone! Brother John and family have a summer camp near Hancock and we all hang out for a weekend. The camp hasn't changed for 50 years - little to no mod-cons, lots of free space, plenty to do and lots of food, lots of dishes to wash and plenty of floors to sweep. No new additions to the family yet but one subtraction, Brother Charles, who died two years ago at age 89. He's gone ahead to give Someone a good word on behalf of the rest of us.

SEPTEMBER
Durham, North Carolina then back home again.

OCTOBER
Portsmouth, RI; Bethlehem and Philadelphia, PA; Boston, where Peter Siegel opens for me, a nice spirited set; Easthampton, MA.

NOVEMBER
Maggie and I head west. East Lansing, MI; Woodstock, IL to the well-known Mast House (a trip all on its own - has to be seen to be believed and even then it beggars belief). Back to England - flying across the pond has become routine to me now. The Pond: a term I dislike; I don't know why - maybe because it is so magnificently big and shouldn't be made smaller even linguistically. I'm a horizontal yo-yo: home and touring in USA, children and touring in UK, USA, UK, USA, UK, back and forth, back and forth. An extensive tour this one, mostly with Martin Carthy and Norma/Mike Waterson. Our two agents have done us proud: Exeter, down in Devon; Bridgewater, Lichfield, Salford, Runcorn, Bangor (Wales).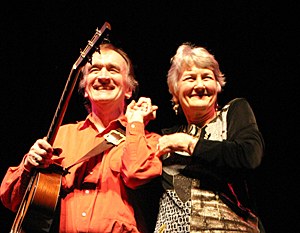 Martin and Me (no good ones of Norma)

DECEMBER is November continued. Sheffield, Worcester, Morecambe, Bury St. Edmunds, Leicester. Normally I like to do concerts on my own but travelling separately but with, the Waterson/Carthy trio has been an unprecedented pleasure. They are eminently musical, utterly good people - I play concertina on one of their songs. Norma stands there like a galleon at sea and the song pours out. They join in on one or two of mine. I'm always happy to see them, share the stage with them. I think it's happening again in the autumn of 2006.


Here we swing into Hemingway mode. It's the only way to deal with a long, very very busy Australian tour.
43 Days in 899 words.

Asheville, North Carolina. 23rd December. Four hours' sleep. Cold. Drive Knoxville. Fully loaded. Suitcase, banjo, guitar, autoharp, concertina, tour box, briefcase and a 2' x 3' painting. Flight delayed. Two hours' wait. Arrive Memphis. Two hours' wait. Arrive Los Angeles. Full plane. Airline food. Indigestion. Sit. Get up. Walk. Sit. Movie. Stand up. Eat. Movie. Pace aisles like a caged animal. Fourteen hours. Why do I do this?

Christmas Day, Brisbane. Am with The Mammals (one relative and four friends, Great Company). Motel. Miniscule pool. We swim standing up. Everything closed. Taxi to Chinatown. Bless the Chinese - we eat. Phone Home to daughter in England. Sleep fourteen hours. Bus to Woodford [3 concerts]. Wonderful large festival, ecologically aware, diverse, colourful, user-friendly, noisy, crowded, well deserving of more than a Hemingway sentence. Good Food, Great Music.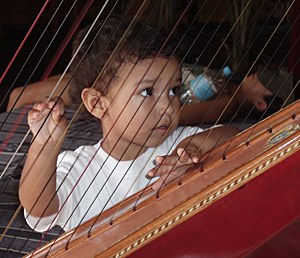 Woodford: today's and tomorrow's harpists

The Kate Fagan Band! Magicians! Dancers! Buy a lovely dress. Hades-hot. The reiki tent and the healing hands and conversation of Reverend Kerry Talbot. Sweat and drink and sweat and drink. Welcome 2006 in with the Fagan Family. Grand choruses from the hill beyond the Troubadour stage. Drive Brisbane with new friend Dave Bourke.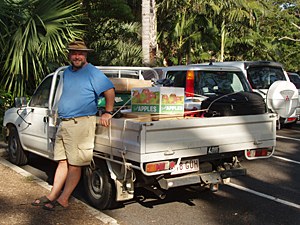 Dave, native guide

Rent a car. Prefer vans. Drive Bellingen [concert]. Great Digs, Great Company. Phone Home to sons in England. Bower bird nest and fruit bat sanctuary. Mama Bat unfolds arms, holds baby out. Baby poos and pees. Mama shakes it, folds it back in. O, sister, here art thou! Drive Sydney [concert]. Partner Irene (a.k.a. Pyper) arrives via tanker from USA. Five weeks at sea. So glad to see her! Stay with the Special Fagans. GDigs, GCompany. Drive Katoomba [concert]. Trees command attention and reverence. Three Sisters shrouded in morning mist. Guess they don't like that ballad. Drive Shellharbour [concert]. Road-ribbon stitched along edges of silken sea. Bathers brave 41 degrees at high noon. Eyesore of roadside commerce gives the hail and farewell to little old towns. Drive Cobargo [concert]. GD, GC. Where are the kangaroos? Phone Home.

I think it's Thursday. The Heat! Onstage with salty rivulets coursing in and around every bodily contour. Drink, pee, sweat, drink, pee. Fingers slipping on keyboard, salt in eyes and mouth. Is it tears? Why on earth do I do this?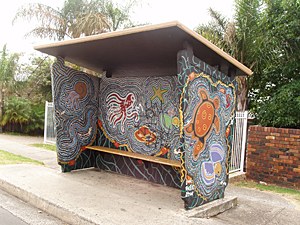 European bus stop. Aborigine Art.


Drive Meeniyan [concert]. PHome. Melbourne [concert]. Judy and Charlotte: GDigs and GCompany. Paddy at the Artery (Fitzroy) bicycles around town at the last minute, pasting posters up. Ergo packed house.

Fly Tasmania. Hosts Anne and Kevin: experts on all things Tasmanian. GD,GC. Cygnet Festival [concert]. James Fagan and Nancy Kerr: primo! Kristina Olsen and the "Big O": hilarious. Seminar with Union Choir. Adjourn to pub. Margate [concert]. Fly North Island, drive Dunolly [concert]. Victoria is parched. Approach the outer interior at carefully-monitored speed limits. Smoke from bushfires on all horizons. Still haven't seen any kangaroos.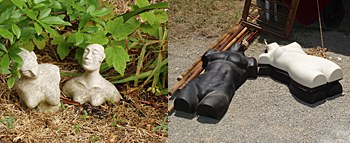 Limbless in Australia


A Proust concert day: Get up wash do stretches drive 1-5 hours (depending) arrive chat eat do laundry sleep shower drive to venue sound-check eat give concert chat with whoever pack up drive to digs chat sort out instruments CDs song lists collect e.mail wash go to bed 1:30 a.m. average 5 hours sleep a night and try to PHome. - and this wasn't a day when we got lost or gave phone and radio interviews or when we split a tire on a kerb. Full stop.

I know why I do this. But why does Irene do it?

Drive Chewton [festival, 3 concerts]. Small, friendly, roasting-hot. GD, GC with Keith and Jenny. Alpaca farm in North Harcourt. You haven't lived till you've stroked a 4-day old alpaca.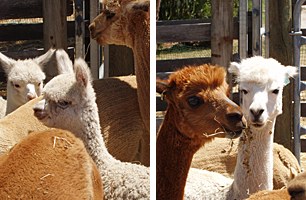 The SKIES! A tropical storm roars in. Glorious and logical. The earth drinks, pees, sweats. Bowl of night with a splendour of stars.

Over the top road. Pass Yass. Yes, Yass! Humungous flock of sulphur-crested angels transform bush grass into a bouquet of flowers. Road into Gundegai. Breakfast time. (Note to self: don't repeat.) Down Kangaroo Valley to Yatte Yattah [concert]. GD, GC. Back to the glorious sea. PH.
Drive Canberra [concert]. Stay with M & M (the third M is Monet, a run-of-the-house budgie. I'm in love. Well-named: leaves impressionist poo on my shoulder.)

Drive Nowra [concert]. GD, GC, PH. Drive Sydney [concert]. Paddington (workshop]. Very rewarding. Good questions. Very rewarding. Irene flies off to New Zealand. Arranging a holiday for when I finish. My prickly compañera. My best critic, friend and partner. Good singer and spoons player. Fly Adelaide [concert]. Battle with Qantas over guitar carry-on. They think it's a weapon. Maybe it is. St Peter T meets me. Saturnine, gracious helpful. Port Noarlunga [concert]. Lagerphone accompaniment. Thanks, Annie. Once-in-a-lifetime sunset happening outside.

Fly Perth [concert]. Ros and Steve Barnes' hosting far beyond call of duty. Final night. Man. old friends. Great chorus singing. To bed by 1:45 a.m., up at 4 to make 5:30 plane to Auckland. I think it's February 5th. If it isn't I'll go back to bed. Or PH.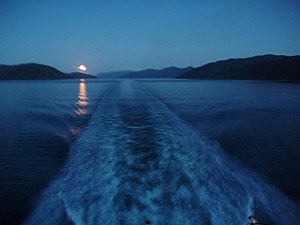 Ferry from Wellington to Picton


February 6th. Rawene, NZ. Boatshed Cafe, watching the ferry come in from Rangioca. Because of Section 23 in the NZ somethingorother, a new bridge (unwanted by anyone except 'developers') will never replace the little ferry. How wonderful. I am exhausted but I don't know it yet. Irene does. 43 days in one of my favourite countries. So many packed houses; so many good people, trees, birds, beaches; so much GD, GC, GM; (so few kangaroos). Would I do it again? In a heartbeat.




Things are bigger in Australia.




FEBRUARY - It's always strange, coming back to Asheville after a long tour. This time there's lots to do: greet the Babou the Cat and our housemate, Marie; arrange the Thank You Asheville concert (April 22); start the moving process (I'm going to Boston, Irene is going back to England to get us a house); start in on the piles of mail; re-connect with friends and with the weather. Two months of being in a hothouse makes you want to stay warm. Odd, that. Nearly bought a house in New Zealand.

MARCH - off on tour again. Kansas City, KS; Cleveland again, this time with Kristin Lems, whom I've been wanting to meet for 25 years. Like the event with Rosalie, this one takes off from the get-go. Kristin's got some excellent songs and she's vibrant, cheerful and useful to the human race, especially the female section thereof.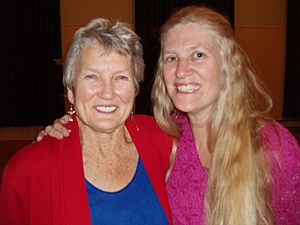 Kristin and Me

Ann Arbor (the Ark), MI; Toronto, a house concert with Eve Goldberg; London for the Cuckoo's Nest Club and a wonderful school, the L.B. Pearson School for the Performing Arts in London Ontario. 250 young singers, dancers, musicians, artists of all sorts.

Woods Hole MA (they only wanted traditional songs ... well, I guess I can do that). Then off to Cambridge/Boston to find rental digs. I'll be there for 5 years or so - teaching at Northeastern University. I think the course will be Peggy Seeger 101. Just kidding. More likely 'Some Perspectives on the Art of Songwriting'. Two days a week.

APRIL Found a nice rental in Jamaica Plain. Bottom floor of a family house. Back to Asheville. #3 Woodlawn is sold and we're holding porch sales, giving things away like crazy, working things out. The cherry tree next door has exploded into blossom, spring in Asheville is as close to heaven as one can get south of the Mason-Dixon Line.

And, of course, the THANK YOU, ASHEVILLE concert, April 22 at the Diana Wortham Theatre. My 'thank you' to Asheville, North Carolina, for twelve exhilarating and instructive years. To friends, weather, home and the south: farewell, adieu, tot ziens, ta ta, till we meet again (etc). It was planned well ahead by my friend Aaron Price and many people joined me ... Irene, Rosemary Lackey. Beanie Odell, Vince Fogarty, Mad Tea Party,Vollie McKenzie, Ira Bernstein, Bruce Green, Loy McWhirter, Jeff Hersk, Mike Rhodes and 300 glorious choristers on the other side of the lights.

What wasn't planned was a little adventure on the evening of April 20th. Thank you, Asheville for some deadly dangerous sidewalk erosion in Montford. I stumbled and toppled - as the Leaning Tower of Pisa will undoubtedly do one day. Fortunately did not land on my face. as is the fate of many of the unsure-footed. Unfortunately landed on my left hand. Immediate swelling the size of a ping-pong ball. Fractured wrist. Sat there crying like a baby. Poor me. But the concert HAPPENED. No hitches. Thank you, Asheville!

MAY is just around the corner, all over the trees and ground. Blossoms. Colour. Birds, worms, little scurrying things everywhere. The groundhog sits by our back deck sunning herself. The raccoon comes out at night for leftovers thrown over the porch rail. And we're packing up to go. Unbelievable.

-------


ACT II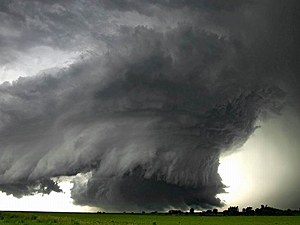 Katrina

It's chaos - the ongoing Iraq tragedy/outrage/warcrime, Katrina, Rita, Guantanamo. Abramoff, Cheney, Rumsfeld ... Hard to read the papers. Destructive. Can't stand looking at our Commander-in-Thief on the television - makes me want to throw things at the screen. I call him Resident WHOOSH! and have immortalised him in the introduction to a song ... Previously called Shrub, he has been dubyad 'WHOOSH!' due to his extraordinary imbeciliability to manipulate objects, principles, laws, traditions and facts in and out of public view. WHOOSH! and his side kick-(and-stomp) Fuck's News, disappears thousands of WTO remonstrators from the bulk of the nation's noose-papers - publications so-called because they represent the rope around the neck of the body politic. Unaware that he is the bleeder of a republic, he is the sole exporter of democracy whirlwind-wide. Etc. Etc. He's a political Katrina.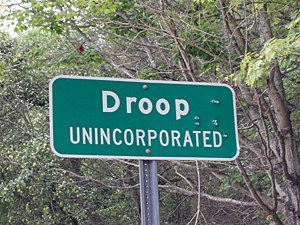 somewhere on tour (August)

Also wrote a poem based on a joke that was going the rounds. It was meant to be a song but I didn't get around to the tune. It's all yours.


EAGLE AND CONDOM

Now, ever since the dawn of what is known as 'civilisation'
We've organised as tribes, then as states and then as nations
Then we'd choose an emblem - a fauna or a flora
To put on flags and totem poles to represent our aura.

England chose the red rose - it's passionate and regal
Canada chose the maple leaf, the Yanks chose the eagle
Now, the eagle as our symbol's very fitting, very right
It swoops around the world devouring everything in sight.

But Washington announced today: the eagle's got to go
'Cause there's a better image, one that's far more à propos:
The condom, the condom best reflects the Yankee stance
It accommodates inflation in the our symballock pants,

Discourages our urges by diminishing gratification
Removes the possibility of following generations
Protects a bunch of pricks - and if I may be so crude
It makes you think you're safe while you're really being screwed.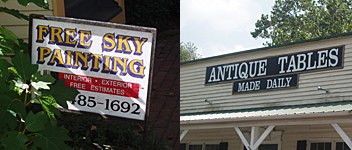 signs of the times


-----


ACT III
SOME GOOD READS

1) A Short History of Nearly Everything (Bill Bryson) - despite his occasional displays of femophobia, his writing always holds my undivided attention.

2) Fast Food Nation (by Eric Schlosser ) Been around awhile, this book. Kind of expected to be enraged by it. I am. Never knew that the Danon strawberry colouring is made up of ground-up female Peruvian insects. And there's worse. Much worse. I'm off hamburgers for life unless they are organic.

3) The Argument Culture (Deborah Tannen)

4) You're Wearing THAT? (Deborah Tannen)

5) Seeds of Change (by Henry Hobhouse) about the five plants that literally changed the face of the earth, due to human intervention: quinine, sugar, tea, cotton and potatoes.

----------


ACT IV

My Timely Series of CDs - Volume 3 , entitled ENOUGH IS ENOUGH is out, with six contemporary songs. Three of them are updated older songs, one of which is by Ewan MacColl. For information and ordering, please go to the CDs page. These little paper-sleeved homemade CDs are tomorrow's collector's items. A number of us songmaker/singers put our new songs out in this manner because (hopefully) the songs have a limited shelf-life. SUPPORT POLITICAL SONGWRITERS!

Please note: Timely #2, THE BALLAD OF JIMMY MASSEY, is still available (see WHAT'S NEW 2005). Jimmy is still going strong, travelling with Cindy Sheehan. He gets all the profits from the sale of this one-song CD. By buying it, you help to keep him going in his good work. Buy two and give one to your local radio station. SONGS FOR OCTOBER 2004 (Timely #1) is also still available.


CODA

"Life would be infinitely happier if we could only be born at the age of eighty and gradually approach eighteen."

I don't know who said that but when I get up in the morning feeling about 90, I remind myself that I will become younger as the day goes along. By noon I feel about 65. Mid-afternoon I'm just hitting the magic 40s. By the time evening comes along I'm in my late 20s, early 30s, my good-better-best years. Luckily, most of my concerts are in the evening. Our parents and their contemporaries didn't talk about health or aging. They just got sick, got well (or died) and things went on. Your age and the state of your body just wasn't a subject of conversation. My generation seems to talk endlessly about such things. You're not shy any more about your age, your mental or body problems. You can talk about your operation(s). Odd - people who've had operations often refer to their body parts in the third person singular. "The heart has an obstruction" ... "The liver needs cleansing". Etc. Men seem to exhibit this distancing more than women, who will more often say "My heart", "My liver", and so on. I am very aware that, if I'm lucky, I'm 3/4 of the way through my life. In fact, in world terms I'm lucky to have gotten this far. Nonetheless, life would be infinitely happier if we could only be born at the age of 70 and gradually get younger, slowing and slowing and slowing till one reaches about 35 - and stays there.

Another odd thing ... the older I get the longer the WHAT'S NEW section gets. I've reached the bottom of the page. It's time to stop.