2005
TO ALL MY WELL-WISHERS: THE CARPAL TUNNEL OPERATION WENT VERY WELL. I'M PLAYING AGAIN WITH NO PROBLEMS. THANKS TO DR. CATALANO OF CV STARR HOSPITAL IN NEW YORK CITY.
April 2005

THE INTELLITOUCH TUNER IS THE BEST GUITAR TUNER I'VE EVER HAD. IT ATTACHES TO THE GUITAR NEAR THE PEGS AND STAYS THERE. EASY TO SEE IN THE DARK, VERY PRECISE AND NEAT.

February 2005

There's lots to celebrate about being (nearly) 70. I've gotten a kind of patience and an understanding, a kind of deep observation of and sharing with the behaviour of my comrades in the world: the trees, the wind, animals and, of course, the flow of humanity on your doorstep, on the television, in traffic, in meeting places, on e.mail and telephone.

Mark Twain's comment on aging comes to mind as I haul out of bed on feet plagued with plantar fascitis: "Life would be infinitely happier if we could only be born at the age of eighty and gradually approach eighteen." I do lament loss of physical agility, being able to sit on the floor cross-legged and rise easily, being able to walk freely in the countryside. But I would not care to be 18 again. The young are SO young - but they cannot all be put in one box called YOUTH. I come in contact with 18- year-olds whose cynicism, boredom and self-indulgence is frightening; 18-year-olds who are like spoiled 2-year-olds; 18-year-olds whose good skills are as diverse as stars in the sky, who are marching, demonstrating, determined to have a say in what their world will be. But always - the young still seem so young. I didn't grow up until recently. My prime years were from 30-60. None of the decades I've hit was hard, but 70 is different. I've come to the conclusion that the manner in which you mature is a matter of fate, fortune, attitude, lifestyle, diet, genetic input and colonic output. My father's family have lived well into their nineties. My mother's family generally died in their 50s and 60s. So floating about at nearly 70 in the human ocean, observing my place and purpose, is a luxury for which I am grateful.

Plantar fascitis, by the way: Thanks to those who replied with encouragement and understanding when I complained last year. I think I developed it through too much long-distance driving in these United States- too much driving without getting out and exercising those calf-muscles and foot-bones connected to the ankle-bones, the ankle-bones connected to the leg-bone, the knee-thigh-hip-bones connected to my heart-brain-bones connected to the sense of well-being, self-control, optimism, youth and every other darn thing that happens from the floor up. In the last WHAT'S NEW I was complaining about my arm (which is better). As I've taken to walking at least 40 minutes a day my p.f. is improving. Next WN will contain, no doubt, some other moanings. AHA ... I've just learned that part of it is arthritis.

MAY 29 2005 - a date to keep in mind. We (I, my children, their spices and my agents) are organising and managing a 70th birthday celebration concert in England (actually three weeks before my actual birth date). Entitled "In Her 70th Year", it will take place at the Queen Elisabeth Hall in London and is going to have not only my children and Irene participating but a garland of prestigious guests. Don't ask who - you won't be told until a fortnight before because if the news got out the QEH would fill with people who'd say "Who's this Peggy Seeger person anyway?" How to book: go to the itinerary section of this website.

Meanwhile, back at the ranch in 2004....

April 24th and 25th - Irene and I were not lost in a sea of women but found in a sea of women, girls, children, babies (a few men). Subject: control of our bodies. Choice. What an outrageous concept it is that we shouldn't have control of our own bodies. It's a subject dear to the heart of the eternal political control freaks, of course, what with the nuclear family being the basic economic unit upon which our capitalistic system is built. It's also a subject dear to the control of certain sections of the severely religious, some of whom were on their knees praying for the monstrous regiment as it marched, strode and danced by. Women being the producers of the prime human product, it's no wonder they want to be in control of us! The march was glorious - we took over downtown Washington!

MAY - I was once again recording with my children, planning the next album, LOVE CALL ME HOME (see the very end of this "What's New".) I sang more songs with Kitty. Mothers: this is about the best, to stand there and hear your voice meld in with your daughter's. Daughters: you'll have to tell me if that would mean as much to you.

THE SUMMER IN PHOTOGRAPHS:

Holidays with my grand-daughter Ella and grandson Tom (separately of course. Maggie is not a large vehicle and Peggy likes to be one-to-one with grandchildren). Ella at a Georgia IHOP; Tom making spaghetti carbonara.
| | |
| --- | --- |
| | |


Ten days' travelling in Maggie from Toronto to Wisconsin with my daughter Kitty and her friend Katie. Kitty (R) and Katie (L) at Niagara Falls and eating corn in Maggie-the-Van.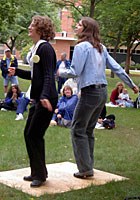 TWO WONDERFUL FESTIVALS: Shawano, Wisconsin and the Great River Festival in La Crosse, Wisconsin. The Grace Sisters (Leela and Ellie Grace) dancing. Their website is www.GraceFamilyMusic.com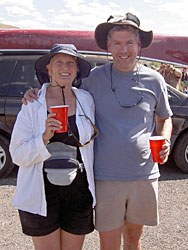 CANOEING on the Gunnison River in Colorado, courtesy of the ACLU and Judy Beggs Pierson. My job was to sing for the other paddlers. Banjo and priceless Martin guitar went downriver with us in a dry bag for three days. Picture below of me and my canoeing partner, poor Ken Glascock who had to put up with front-paddler bossy-boots, the canoeing equivalent of a back-seat driver.

SEPTEMBER (thumbnail sketch) - HURRICANE FRANCES rolls through Asheville creating Lake Biltmore and disrupting many lives, destroying a number of businesses. Patsy Keever runs for the Senate in Asheville, Peggy makes two songs for her. Asheville is an old boy town ... result was status quo. A concert of topical songs at the West Asheville library (stormy night ... 10 brave people in the audience).

OCTOBER - Once again on tour to England and Ireland. England still calls me ... not only because my children and grandchildren are there but because, because .... well, why? It's a little island, damp, gray, captained by yet another high mucky-muck intent on destroying Iraq. So why? When I first went there I was charmed by the smallness, and still am. Charmed by the antiquity, and still am. When it's gray, it's GRAY. But when it's green and blue and sunny, there is nothing like it. Sure the place is small - but that means you can get from one place to another quickly (not too easily ... too many cars for the roads), from one geological time warp to another, from one accent to another. Lots of variety in England - and I've travelled enough there during my 35 years of residency to really know the place. I once did a sponsored swim for CND. 135 laps. I christened each lap with a road number, remembering from where and to where it went: the A5 northwest-by-Tamworth, the A 94 up the western side of North England to Scotland, the M-1 most likely to an early death, the etc etc. I think I quit after 135 because I couldn't remember where the 136 was.

ALSO IN OCTOBER - I decided to put out a quick homemade CD of 6 songs that pertain to some aspects of the state of the USA at present. Called SONGS FOR OCTOBER 2004, it contains one song that I take particular pleasure in singing, 'Go Easy on Him'. Dedicated to GWB, I can pound on the piano and sing vitriolic adjectives and see who is in the 'audience' by the reaction I get. Nobody's walked out yet .. yet. The Limeys and Paddies loved it. THIS CD IS STILL AVAILABLE! SEE THE CD SECTION OF THIS WEBSITE. It is the first in a series (yet to be named) of up-to-date small homemade ventures.

HIGHLIGHTS OF THE YEAR -

(1) A BILLY JONAS family concert. Go to his website (www.billyjonas.com) and find him somewhere. Don't get to the end of your life without seeing him. His songs are great, his attitude and stagecraft top flight. I'm a fan.

(2) Self-help with my maturing emotional environment: a Landmarks Advanced Course (group help and institutional jargon, excellent results - see their informative website www.landmarkeducation.com); I wrote a song, Landmark Love Story, about it. It won't hit the Top Twenty but if there are any Landmarks people out there who want a copy, let me know. $5 and some stamps to 3 Woodlawn Avenue, Asheville, NC 28801.

(3) A hypno-therapist to help with my still-bothersome trapped nerve/carpal tunnel (which is, by the way, improving). Most interesting - and I got a chance to lie down. I've now decided to have the carpal tunnel operation after years of trying everything else. Getting fed up with not being able to practice, getting halfway through a song and having to hang my arm out and down from the shoulder. Identity problems too - my instruments are not only an extension of self but a vital part of self. Not being able to play is self-destructive.

(4) Got to meet daughter-in-law Justine Picardie's family in Toronto after all these years. The family is bigger by a dozen members. Good food and wine, too.

(5) Michael Hoppe and I are discussing putting my love poetry to music. We've done three poems so far.
DOWNLIGHTS OF THE YEAR


(1) Too much driving. Doesn't help any part of the body. Have to hop out every hour and wave the old arms like windmills whilst upstepping and downstepping (for feet and legs) on any available kerb (that's British for curb). A passing gas station attendant asked if I was trying to fly instead of drive. I said yes.

(2) Maggie the Van is being traded in, poor baby. 183,000 miles - she deserves a rest. I've been like a snail looking for a new shell. Friends have been telling me that such a vehicle is environmentally unfriendly and to a certain extent I agree. But I'd need a really secure large vehicle to carry all my stuff when I'm on an extended tour - 3 instruments, clothes, CDs, books, laptop and etceteras. As a touring vehicle, a small motor home relieves me of the strain of carrying instruments in and out and in and out and in and out and in and out of hotels, motels, friends houses, etc. Want Peggy to come and stay? She pulls up outside your house in her own little cabin-on-wheels. You have no sheets to change, no bathroom sharing, no suitcases & instruments chipping paint off your door surrounds and banisters. You don't even have to feed her. Just invite her in for social time and use of your washing machine. Clothes can dry on Maggie's bed. Totally self-sufficient. And the privacy on festival grounds, with no need to take buses back and forth and back and forth and back and forth between hotel and festival grounds - DELICIOUS, I'm afraid. So I'm on this track until I stop touring. So I now have Henry (a temporary name for a Roadtrek 200 Versatile) with 32,000 miles on him. I'll include a photo as soon as I've gotten over my grief.

-----------


MUSIC, BOOKS, AND SO ON.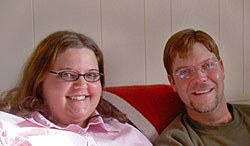 JIMMY MASSEY (shown in the photo with his wife Jackie) lives in Waynesville, North Carolina, about 40 miles from me. He was a Marine of 12 years standing who, after 4 months in Iraq, went to his lieutenant and told him he couldn't do what was required of him in this particular line of duty. It's a long story, and a good one, and he is now back in North Carolina recuperating and studying how we got to where we are as a country and where we're going and his part in it. He travels around the country talking about his experiences and what he's learned. I interviewed him and have made a song for and about him. I've made a quick interim CD of the song and he carries it on his tours. He has written a book, Cowboys from Hell, to appear in bookstores in September. A film-script is being written based on that book. Enter his name on Google and discover what happens to you when you do what Staff-Sergeant Jimmy Massey has done: 173,000 items (some of them obviously not about this Jimmy Massey), many of which are frightening slanders, threats, contradictions, the kind of thing that happens when your version of what happened to you isn't accepted by horn-blowers (a polite term) for the establishment. Be one of those who give him and his wife Jackie support and encouragement.

Support him (a) by e.mailing a message to him at CowboynPeach@hotmail.com and/or (b) by purchasing the CD from him.


LEMONS ARE NOT RED and THE HIDDEN ALPHABET are two of the best books for little ones (age 2-4) that I have seen in ages. The colours are glorious, the concepts simple, and the artwork is not cutesy or condescending. The concept is unique. They've apparently been out for a year but stick-in-the-mud here only saw them two months ago. Written and designed by my niece-by-marriage, Laura Vaccaro Seeger and put out by Roaring Brook Press, they are a must-have for tots and for parents who are too worn out to read long stories.


-----

READ THE 'ALPHABET AND THE GODDESS' by Leonard Schlain.




ATTENTION - ATTENTION - ATTENTION


PEGGY'S NEW CD, THE SECOND IN THE HOME TRILOGY, ENTITLED "LOVE CALL ME HOME" IS COMING OUT IN APRIL. TEN TRADITIONAL SONGS AND TWO OF MY OWN COMPOSITION. I HAVE A MASSIVE E.MAIL LIST BUT IF YOU WANT TO BE ON IT DO LET ME KNOW. NAME AND E.MAIL ADDRESS PLEASE. IF YOU DON'T DO E.MAIL, SEND ME A STAMPED SELF-ADDRESSED ENVELOPE WITH PERTINENT REQUEST INSIDE.




MY SECOND SON CALUM and his wife KERRY are two members of a team that has opened a unique new website, M-Vine, for musicians and music consumers: Below is a description.

mVine is a new concept in the music industry. We are the first fully interactive independent record label. mVine brings artists and audiences together to influence each other. Join our online showcase of original music to become a potential mVine partnered artist or become a member of our voting audience and A&R team. Or do both. mVine is free to join. Just go to http://www.mvine.com

We don't categorise music into genres, because we believe that truly original music is about feeling, not filing. mVine gives everyone a voice in the future of music.

Join as an artist:
Upload three of your original tracks on MP3 for assessment by our active global audience. Copyright remains yours at all times & you can sell individual tracks to the audience. We'll partner with artists who achieve consistently good audience ratings. We can invest in your career, help you produce and market your music, AND make sure you stay in control of the process at all times. This is a working partnership between you, the audience and mVine. We're on your side.

Join the audience:
Listen to as many tracks as you want. Rate each one & tell us what you think. Every time you vote, you make a difference to the artist's overall rating. Compile your personal top ten and buy tracks that really move you. Find out more about your favourite artists & local gigs. Join in the discussion boards or visit the shop. You'll also collect mPoints that give you increasing privileges and influence on the site.

mVine launches in mid-March '05, and you can find out more details now at http://www.mvine.com.