2004
April 1, 2004: a perfect day for summing up a whole year. The home of Sonny Ochs, in Franklinton NY: a perfect place to sit and write a new What's New.
My days are being dealt out like playing cards now, Jack of Diamonds here for the crazy life I lead, Two of Hearts for a tumultuous life with my partner, Queen of Spades for the occasional bad luck, all the rest of the pack for whatever game life plays. The problem is Time. Why Old Father Time? Time is neither old nor young, neither male nor female - but it does begin to feel cruel sometimes, as its perceived control over one's own span gets shorter and shorter. Never mind. Now Mother Earth is altogether different: old and young, both genders and all in between, gentler and more embracing, Mother Earth by whose changes we register the passage of Time. 2003 - year when Time and Earth enfolded two of my dear friends.

Haiku.

An old friend has died
The stars in my sky cry out
Their comrade is gone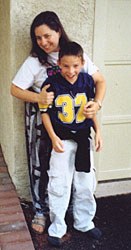 FREYDA EPSTEIN - She died on May 17. It's outrageous, criminal, murderous. A drunken driver killed her in a head-on crash on Route 29 north of Charlottesville, Virginia. She has inhabited my mind on and off ever since. I never knew her well and would have liked to be (but was probably not) counted as one of her close friends. I saw her rarely but every meeting was memorable. My grandson Fraser and I visited her home outside Philadelphia five or six years ago. Irene and I visited her and Tracy in Berkeley. When she recorded her lovely fiddle accompaniment to "The Fiddling Soldier" for Love Will Linger On, we had a long dinner together. I attended a week-long Alexander/voice class when she came specially to Asheville to teach. I shall never forget the grace and generosity with which she brought all of us forward and out of ourselves. She could make a really good joke out of anything even as she could make good fiddle music out of any tune. Her quirky, self-effacing sociability, the generous sharing of her talent and that talent itself … what a damned waste! Irene and I attended the memorial given for her by her family and friends in Charlottesville and, at two days notice, an entire churchful of people were there to remember and honour her. What a hole is humanity left with her going. May 17, 2003.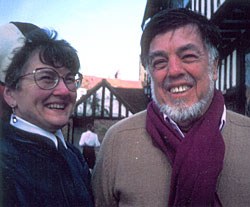 ALAN LOMAX - childhood acquaintance, workmate and friend, possibly the most influential catalyst of the Anglo-American folk movement/revival of the 1900s. It is impossible to eulogise this man enough - he was a mover-and-shaker, a link between folklorists, folksingers, cultures, an impossible dreamer and creator. I knew him from my earliest days - many many of the songs I sing were collected by him and his father John and sister Bess from the many many of the singers I learned the songs from. He died in his 80s. A comet of a man.

------------------------

HEADING FOR HOME came out in August 2003 and it has turned out to be the most popular of my CDs. The good reviews keep pouring in. It's all traditional music except one piece and I think to myself, 'what was the point of writing all of those songs for Odd Collection, Love Will Linger On, Period Pieces, etc., when what seems to please the most is the old songs?' There's a lesson to be learned here - sing the old songs more often. Meanwhile, back at the ranch, I return to England in May to start on the next volume of the Home Trio, Love, Call Me Home. Whether I can record is a question because my left arm, about which I was complaining last April is still bothering me now. If it hasn't improved by May, Love, Call Me Home will have a few more unaccompanied songs than previously planned. Hopefully, my daughter Kitty is going to join me on one or two of those. I must remind her.

By the time you can make ends meet, they move the ends.

PEGGY'S ARM. I feel like a bird with a crippled wing. I've been alternately told it is carpal tunnel and a trapped nerve. It gets better then worse then better. When I play concerts it is better. When I try to practice it is worse. Sometimes sleeping is a nightmare even though I have a custom-made splint for my wrist - only one position is comfortable. I am resisting surgery for I have heard so many horror stories. But I am losing heart at trying to heal it in other ways (rolfing, feldenkrais, physiotherapy,, acupuncture, stretches, etc). I have discovered just how much of who I perceive myself to be is defined by my being able to play music; not being able to play at will is affecting my psyche seriously, especially as I cannot practice enough to feel really in full command when it comes to concerts. So far I've been able to manage it. If anyone out there has, or is suffering from, similar problem and has any suggestions, I'd love to hear from you. Techniques, psychology, cures, jokes, humour, even horror stories …anything will help me make up my mind what to do.

Eat well, stay fit, die anyway.


ELISABETH PYPER SCOTT - born March 15, 1908 and died September 4, 2003. Irene's mother, not to be forgotten. Even at the age of 94 she could remember her childhood clearly and could recall entire conversations which, I must admit, she regaled us with over and over and over and over and, yes, over. For years. She still lived by herself, still had a zest for life, held onto it with both hands and as much energy as she could muster. I'll miss her, the old so-and-so. Hope I'm in as good shape when I'm 94, for I will reach that age if my father's genes are dominant. I've already passed the age when my mother's would have send me packing. Several years ago I was musing on the fact that I am now older than my mother ever was and I wrote her this poem. I have to keep adding years to the last verse while hers stay the same.

Mother Time.

My mother is younger than me.
She died at fifty-two
With plump red cheeks and black black braids.

My hair is grey now, my cheeks are lined.
She sits at my knee, her head inclined
To accept my care.
I comb and braid her hair
As she once did mine.
And as I sing
She tells me things
About her new school.

As I grew my wings
She opened the window
And out she flew.

I am sixty-eight.
She is fifty-two.
My mother is younger than me.


Age is a very high price to pay for maturity.

THE SUMMER coming up looks to be spent mostly in Asheville, darting out to take grandchildren out; to participate in a festival in Wisconsin; and to be the resident singer at a most unusual ACLU event in Denver (canoeing and giving campfire concerts no less!). Ahh, the grandchildren! Special times, these are. I've taken five of the seven out for a fortnight in Maggie-the-Van over the last 7 years. This year I have two of the little monsters, coming (fortunately) separately. Ella (9) comes in June and Tom (10) comes in July. I love these times because I do things I normally wouldn't do - go whitewater rafting, go up in hot-air balloons, go to nature reserves where alligators roam the car parks, go to water-theme-parks where I can become a child again, with a child. I hope Maggie will hold out - she's done 173,000 miles since her birth in 1993. At the moment of writing she is receiving a new transmission and all kinds of health checks, disastrous financially but … she's a member of the family, like a pet. Not someone that you put down when she can't quite wag her tail totally. She's the perfect vehicle for a touring singer.

Bills travel through the mail at twice the speed of cheques.


THE PERFECT VEHICLE - Maggie makes it possible for me to manage festivals and summertime concerts and still keep cool and composed. I can sleep, shower, cook, practice (arm permitting), relax, retire and, of course, drive to and stop anywhere. She's 19 feet long, 7 feet wide, 9 feet high, amazingly economical on gasoline and wonderfully responsive and comfortable to drive. Here's raising a glass to you, Maggie, red wine, gin and tonic (my latest tipple), good strong English tea that you can stand a spoon up in, anything that will cause you to sit up, bark and carry me to the next place I'm going.

If you look like your passport picture, you probably need the trip.


HIGHLIGHTS SINCE LAST WHAT'S NEW:

(0) Not a highlight - lower than whaleshit and that's at the bottom of the ocean: America invades Iraq. Not Bush. US. See THEN & NOW 2003.

"I stand by all the misstatements that I've made." (Governor George
W. Bush, Jr. to Sam Donaldson, 8/17/93)

(1) March: the Athena festival in Nashville, KY, where Judith Tick (of Ruth Crawford Seeger biography renown) and I once again enjoyed each other's company and work.

(2) April: a week's residency at Dartmouth College, New Hampshire, initiated by Larry Polansky (who edited my mother's transcription notes into a book, see the Ruth Crawford Seeger page on this website). Rachel Wixom provided a lovely flute accompaniment for "Swallow and Trout" and Joe Clifford, schlepper and companion for the whole week, inspired a new song, "My Outreach Man".

(3) May: a lovely small outdoor concert at the Carl Sandburg House in North Carolina. It meant even more as I had recently met Helga and Paula (respectively, Sandburg's daughter and grand-daughter). In her childhood, Helga had been taught piano by my mother, who collaborated with Sandburg on American Songbag. The concert space is in a splendid grove of trees on the lawn of the big old house and I had a chance to listen to other singers and musicians before my stint. Good weather too.

(4) September: Music enthusiasts have been contacting me asking where my mother is buried. Normally such rituals are of minor importance to me but I felt that she deserved her own headstone in the plot of her husband's family. So in September 2003 I commissioned and placed a headstone on the grave of my mother and father. It is of simple pink granite, placed on lot #344, to the left of the phallic old SEEGER stone placed there in the late 1800s, the engraving on it nearly illegible. The location is a beautiful old graveyard, smack in the middle of highly contrasting neighbourhoods: Springfield Cemetery, 171 Maple Street, Springfield, MA 01105, Lot 344.

(5) September: a wonderful three days spent on the 23-24-25 at MIT in Cambridge (MA), organised by Ruth Perry, one of those thunder-and-lightning catalysts that the world needs more of. I was fully employed, going from class to class (women's studies, English lit, music, women's studies, etc) enjoying what the students were doing and talking about what I am doing. Such events help clarify in my mind exactly what it is I am doing and it is so good to see younger people carrying it all forward. And of course, my compañera Judith Tick was there and as usual turned the top floor of her Brookline house over to me. Wonderful place to work and rest.

(6) October: The Santa Barbara (CA) festival, a feast of music and musicians, mostly outdoors. And best of all, re-contact with my stepsister Edith Tipple, daughter of Margaret Taylor (my father's first love and third wife, after whom I, daughter of the second wife was named: what a hoot! My mother thought so too). Edith and I are almost the same age - we think alike, seem to live alike and even look alike. Hmmmm.

(7) November: Heading for Home is launched at Malaprops, the women's bookshop in Asheville. Thanks to Emoke, Malaprop's Mistress of Ceremonies.

(8) November: An English tour and re-contact with more old friends and of course, family, beloved family.

(9) December: On the 5th, a most unusual evening, a benefit for Helpmate, the Asheville organisation dedicated to publicising and bringing an end to domestic violence. WOMANSONG, Asheville's female choir, opened and helped close the evening, setting and framing the evening in a most wonderful and heart-warming way. Irene joined us on two songs. Shiner Antiorio enriched the evening with signing, a feature that I always welcome. Gives 'em something alternative to look at.

(10) January-February 2004: washing dishes, Official Go-Fer, Music Organiser, Runandfetcher, Recycler, etc., for Pyper's Place

(11) March - Whilst in Los Angeles I visit Michael Hoppe … wonderful romantic music (website www.michaelhoppe.com). I am planning to record some of the love poems I wrote for Irene and Michael is going to put his delicious moon-clouds-stars music behind it all. Sometime in the next two years.

(12) March again - Toronto and a concert with old old friend Enoch Kent, Scots singer from Glasgow. A heart-warming evening both for us and for those who attended. Then an evening and digs with step-brother Rufus Dickinson and his partner John Sakeris. Sometimes I think I tour just for these occasions, chances to meet and re-meet.

(13) April, where I sit at Sonny Ochs' table in her house way off in the backend of somewhere writing all this nonsense. We've just finished a puzzle, a dinner and a talk. The cat Marble looks out the window. It's quietly dynamic.

How much deeper would the ocean be if sponges didn't grow in it?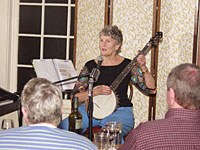 PYPER'S PLACE runs through the fabric of the whole year, like a recurring motif. It's Irene's place, definitely Irene's. It opened on February 14, 2003 with a bang: 20 musical acts, balloons and bringing Zena (mascot, full-size woollen zebra) through Asheville on a decorated platform pulled by a pickup truck. Zena oversees Pyper's, which has now become a vibrant feature of Montford, Asheville's historic district. PP celebrates St. Patrick's Day, Easter, Thanksgiving, Christmas. Named after her mother, Elisabeth Pyper Scott, it won't be financially viable for several years yet but it is wonderfully rewarding as a place to sit, meet and work in. Irene is wearing herself out running it. Enough said of that. The floor is buckling with wet feet coming in and out. The 9-foot sofa should have hosted thousands of people in this last fifteen months but actually only hundreds have had the chance to occupy it. The problem is that once you're on it you don't want to relinquish your seat, especially if the open fire is lit.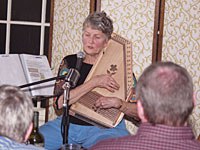 Music happens sometimes up to four nights a week - music of all sorts. We've had swing, Old Time, Celtic, local composers, SS folk (singer/songwriter), odds and sods (including yours truly). Professional groups travelling through with a night to spare just can't refuse the terms: food + tips. We're getting requests from musicians to play from as far afield as Vermont. There's a catch: I'm responsible for booking most of it, aided and abetted by John Herrmann and Naomi Friedman. Even when I am on tour I send out the weekly e.mails to over 500 people notifying them of the music schedule. It's a place where, while you sit drinking your coffee and eating your Cumberland Butterfly, Irene (many of the customers call her Pyper) could be under the ice-machine maintaining it or figuring out how to make potato farls and poached eggs for six on one electric ring for Sunday brunch. On a busy night, I don an apron and wash dishes (the magic dishwasher goes through a cycle in 90 seconds) or collect dishes from tables or answer the phone or …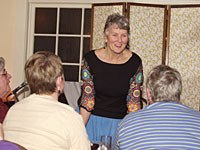 It's a whole new existence. It's not a café. It's more than a coffeehouse. At one point Irene called it a coffee destination. Now, in the evenings when the lights are turned down too low to read by and the candles are lit, it totally lives up to its latest name: Montford's Romantic Hideaway. No website - no time or money to set one up. The only way of finding out what's on is to e.mail me and ask to be put on the Pyper's music list. 233 Montford Avenue, Asheville, NC 28801. 828 253 1100. Insane hours, crazy décor. Just what you need.

A balanced diet is a cake in each hand.

It took four days to write these pages, during which bro Mike and I gave a concert in Albany. More chances to do that, PLEASE. I'm headed home tomorrow.

STOP PRESS! WONDERFUL NEWS!
Pyper's Place has won the Griffin Award, an award presented by the City of Asheville to outstanding projects involving the renovation and/or restoration of historic buildings. It is not just awarded for intent. It is awarded for quality of work[man]ship and authenticity of style and adherence to the principles of the Historic Preservation Society. It's Irene's second Griffin Award. Bravo, Pyper (for now the community have given her that name)!