It's Pete!
Peggy Seeger's New Song for Pete Seeger's 94th Birthday on May 3, 2013
IT'S PETE! (2:58). Credits - words, Peggy Seeger and Irene Pyper-Scott; music, copyright, vocals, piano, vocal and banjo Peggy Seeger; oboe, Kate St. John; recorded by Neill MacColl who also plays bass.

Peggy writes: I've always marvelled at Pete's ability to get people to sing together. This song, made for his 94th birthday, was recorded with my son Neill & his sweetie, Kate, is a bit of an extrapolation on that skill of his. I do hope he likes it - but whatever his reaction, I"m sure he will join in on the chorus. Happy birthday, Pete!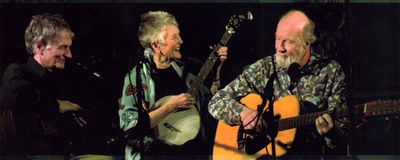 the late Mike Seeger, Peggy Seeger and Pete Seeger at the Library of Congress
photo by Ursy Potter
Peggy Seeger & Pete Seeger Concert WAS Sunday, May 12, 2013